Focus should be on getting new homes right first time, says John Tutte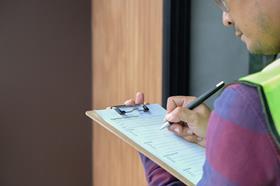 Redrow's executive chairman has labelled the use of buyer retentions to cover faults such as scratches on doors in new-build homes as "ridiculous".
Speaking as the housebuilder announced its latest annual results last week, John Tutte said: "We're driving towards zero defects in our homes on handover. This is about getting delivery right first time.
"Sometimes stuff happens, like a kitchen door gets scratched or a door gets knocked. Holding a huge retention for things like that is ridiculous."
Ruling out setting up a retention scheme puts Redrow in an opposite camp to one of its biggest rivals, Persimmon, which in July this year introduced a retention scheme for buyers who could report faults for their new homes on the day they moved in.
This was later extended from a day to a week, as Persimmon said it would be creating a team of specialist inspectors to monitor quality standards on its housing developments.
Instead of a retention scheme Tutte said Redrow had introduced a quality control system where site managers could identify faults in a new home and photograph them, showing what corrective work was needed.
"The recording of the home at various stages of build also allows us to demonstrate to our customers the inspections we have undertaken and the inner workings of their new home," Tutte added.
Meanwhile, he said the planned closure of the government's Help to Buy scheme in four years' time would profoundly affect the London market.
"We shouldn't lose sight of the fact that Help to Buy has been effective in helping first time buyers buy a home. 80% of first-time buyers use Help to Buy. For every four Help to Buy homes we build, we build one affordable home," he added.
And plans being floated by the Labour party to means test prospective buyers were not the answer, Tutte said. "Means testing is not the way forward for Help to Buy. Yes, some people might take advantage of the system but overall it's worked and done a good job.
"We've delivered a 125% increase in turnover, without taking into account Help to Buy since 2014, the year after the scheme was introduced. It's not a driver of profit for us."
Tutte, who replaced Redrow founder Steve Morgan earlier this year after Morgan stepped down after 10 years in a second stint at the firm he set up in 1974, said he was pushing for a transitional arrangement for London to avoid a shock to the market and said other things could be done to help the housing market.
"We'd also like a reduction in stamp duty across the board. It was increased across the board, [so] they can do the same in the other direction.
"It would stimulate the market, leading to more housing transactions, and more housing transactions stimulate the economy," Tutte added.