Investigation found £1.76m of unauthorised redundancy payments had been made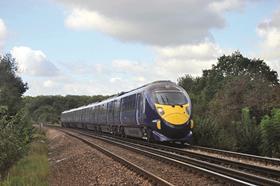 HS2 finance boss Steve Allen is to depart the organisation after an investigation by the National Audit Office confirmed unauthorised redundancy payments had been made.
The NAO reported in July that the company responsible for delivering the country's new high speed railway had been running a redundancy scheme at enhanced terms without the necessary approvals from the Department of Transport.
HS2 was given permission in March last year for statutory redundancy terms after needing to restructure its workforce and relocate its head office to Birmingham, but was refused a request to up the redundancy terms to civil service levels. However, the NAO found that this refusal was not passed on within the organisation.
The NAO estimated that out of £2.76m redundancy payments £1.76m were not authorised because they related to unapproved enhancements.
Allen said: "The weaknesses highlighted by the NAO report resulted in both the HS2 Executive and Board being misinformed about the status of critical approvals for redundancies. Those assurances were given by teams for which I was responsible and, obviously, I regret that.
"So, whilst we are now putting in place the measures to strengthen financial governance systems and to provide robust financial stewardship for the company, I believe it will be appropriate for me to move on."
HS2 chief executive Mark Thurston added: "When I joined the organisation earlier this year we faced a number of issues that needed to be addressed, particularly around our administrative controls and mechanisms on redundancies agreed by the company, as highlighted by the recent NAO report into HS2's annual accounts.
"Steve has been absolutely critical in identifying the ways to rectify those issues and make sure they do not happen again.
"But, having done that, I respect Steve's decision that now is the right time for him to move on. I would like to thank him for all he has done for the company in this formative period. His honourable decision will enable me to build the executive team for the next phase of the project."