Engineering services group reports 7% decline in turnover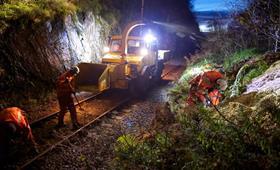 Engineering services group Renew Holdings saw first half turnover dip 7% to £261.3m and reported a pre-tax profit for the six months to the end of March 2018 of £2m after taking an exceptional charge of £10.5m, largely to cover the recent sale of its gas infrastructure business Forefront.
The AIM-listed group earlier this month bought Scottish rail contractor QTS Group for £80m and said the deal would help it capitalise on Network Rail's £48bn-strong non-discretionary operational expenditure budget.
The firm said it continued to work on long-term frameworks at Sellafield in Cumbria which included the 10-year Decommissioning Delivery Partnership Framework, while it also commenced work at BAE Systems in Barrow, providing engineering support to the Astute Class nuclear submarine programme.
Renew said that following Network Rail's recent renewal of the five-year Civils and Buildings Asset Management Frameworks it had extended all its existing frameworks while adding a number of new positions in the South East.
The group's overall order book at 31 March 2018 was £540m, up from 2017's £517m. Engineering services' order book grew 9% to £472m, while specialist building saw its order book fall 17% to £68m.