Coverage and analysis of the appointments key to construction
Key construction appointments so far…
Business, energy and industrial strategy (energy infrastructure inc Hinkley, construction policy) - Greg Clark
Transport secretary - Chris Grayling
Communities secretary (housing, planning, local govt) - Sajid Javid
Cabinet Office minister (procurement, construction cost-cutting) - Ben Gummer
Education secretary - Justine Greening
Justice secretary (prisons) - Liz Truss
Health secretary - Jeremy Hunt (no change)
5.55pm
Looks like that (might) be it for today, with all the top level secretary of state positions filled. The reshuffle will continue tomorrow, with lots of junior minister positions to be filled.
Construction has a trio of key ministers to get to know. Two are already familiar, with Greg Clark and Sajid Javid swapping the communities and business departments, although the business department has grown in importance by swallowing the department for energy and climate change (DECC). Chris Grayling takes the transport brief, including the thorny issues of HS2 and airport expansion in the South-east. To find out more about the key ministers read our profiles here.
Elsewhere on our site, May's decision to shut DECC has provoked an angry reaction from green campaigners.
On Tuesday night we interviewed Greg Clark at the FMB's summer bash at the Palace of Westminster - here's what Clark - who will now be responsible for construction policy - thinks about prospects for the sector.
We will be continuing to cover the reshuffle tomorrow, as well as analysing today's developments in more detail. Thanks for joining us.
Update 6.10pm - I spoke too soon. Final appointment for today, Ben Gummer becomes Cabinet Office minister, replacing Matt Hancock. Another important one for construction as his remit will include procurement and construction cost-cutting.
5.08pm
David Gauke is chief secretary to the Treasury (who in the past has effectively been minister for cuts), while Alun Cairns remains Welsh secretary and the Conservatives' only Scotland MP, David Mundell, unsurprisingly remains Scotland secretary. David Lidington is leader of the Commons.
4.01pm - Analysis: Greg Clark is business and energy secretary
As expected, DECC (it appears including climate change policy) has been rolled into a new business department.
High up on Greg Clark the business and energy secretary's agenda in his newly created department will be the future of Hinkley Point C.
Greg Clark's views on the project are not known, but the former communities secretary will have to get up to speed with the scheme quickly given the mounting pressure from – among others – independent watchdog the National Audit Office (NAO). The NAO criticised the cost of the project, warning it could cost taxpayers £30bn in "top-up payments". Considering the major reshuffle in the Cabinet, he may have to build the government's case for the project all over again.
But in terms of another area on the energy brief, energy efficiency policy, Clark could be seen as a welcome appointment. He did after all co-commission the Bonfield Review with former energy secretary Amber Rudd, and was also shadow energy secretary for two years leading up to the 2010 general election.
3.52pm - Analysis: Javid is communities secretary
Former banker Sajid Javid and Greg Clark appear to be in a game of swappsies as they sidestep their way through ministerial posts.
Javid has been involved in the government's attempt to cut the red tape around planning, which may give housebuilders cause for cheer.
Last summer, the son of a bus driver unveiled plans to give ministers the power to seize disused land and aimed to cut the red tape around planning to allow housing projects to be fast-tracked.
In December he launched the Cutting Red Tape Review aimed at building on the work of the housing implementation task force and giving those involved in the sector a voice as part of a £10bn deregulation drive.
However, he voiced concern over plans from Redditch Borough Council to build 2,800 new homes in Bromsgrove on Green Belt land.
Meanwhile, Priti Patel becomes international development secretary, and Karen Bradley is promoted to culture, media and sport.
3.45pm
Sure enough, Greg Clark is appointed secretary at the new super-department for Business, Energy and Industrial Strategy. Among his responsibilities - construction policy and energy policy, including Hinkley, wind farms and tidal power. Unclear whether climate change policy moves over with the rest of DECC.
3.38pm
Of the secretary-level cabinet posts relevant to construction, just BIS (includes construction policy) and DECC (energy infrastructure and sustainability) remain, and it may be that it'll be just one secretary post to cover them both if the rumoured merger happens.
Then we move on to junior ministers… David Cameron's cabinet had specific junior ministers for a whole host of key construction areas, from housing (Brandon Lewis) to energy efficiency (Lord Bourne). I suspect this reshuffle will spill into tomorrow.
James Brokenshire, incidentally, becomes Northern Ireland secretary.
3.20pm
Sajid Javid is appointed communities secretary. A big one for construction - he will be overseeing housing, planning and local government policy. He replaces Greg Clark (who I think it's fair to say will be missed, he knew this area much better than most people who've done this role in recent years) who is in Number 10 now…
3.06pm
Andrea Leadsom, whose stock has fluctuated almost as wildly as the value of sterling over the past few weeks, has been promoted from junior energy minister to secretary of state for the environment. The avowed Brexiteer and one-time leadership challenger will have a lot on her plate as the environment department will be on the frontline of the Brexit negotiations as we leave the Common Agricultural Policy.
So farewell Leadsom. Building interviewed her on a tour of the UK's first and only "eco-town" in Bicester, in the relatively quiet days of May. You can reminisce here and here.
The rumours are that DECC is being rolled into BIS, partly for the prosaic reason that it will make room for the newly-created Brexit department to move into DECC's old building.
3.05pm - Analysis: Chris Grayling is transport secretary
Described as "stolid" by some media commentators, given the big political issues facing transport Chris Grayling may have the perfect profile for a transport secretary.
Regarding the biggest issue on his brief, Grayling is a keen backer of HS2. At various stages of the bill for HS2, the new transport secretary has voted strongly in favour of the project.
He is thought to be a supporter of expansion at Heathrow, and reportedly voiced concern over his party's previous anti-Heathrow stance when the Tories were in opposition in 2009.
Grayling is also not a complete stranger to the transport department, having spent over 18 months as shadow transport secretary between 2005 and 2007.
Meanwhile, Damian Green has been appointed work and pensions secretary, replacing Stephen Crabb, who resigned from the government earlier.
2.41pm
We have a new transport secretary! Chris Grayling, who was Theresa May's campaign manager during the curtailed leadership contest. Quite an in-tray with this one what with HS2 gearing up under sustained heavy fire and the small matter of airport expansion in the South-east to be determined.
Does the appointment of a transport secretary mean the rumoured restructuring of departments to create an enlarged infrastructure department isn't actually happening?
1.45pm
A little bit of a lull, truth be told. Stephen Crabb, formerly work and pensions secretary, has however resigned from the government.
12.45pm
After much speculation, Jeremy Hunt does in fact remain health secretary. Theresa Villiers has left the government.
12.28pm
Really big news if this is confirmed - the Telegraph's Christopher Hope says BIS, DECC and Transport departments could all be closed… and replaced by two new departments - one for Infrastructure and one for Industry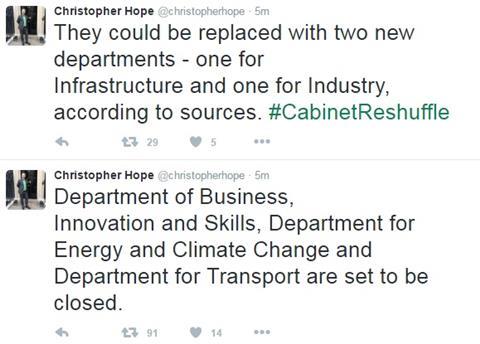 12.37pm - Analysis: Justine Greening is education secretary
Justine Greening's re-appointment to a senior Cabinet role is not good news for Heathrow expansion.
The new justice secretary is a well-known opponent of a new runway at the airport – her constituency is directly under its flight path – and has previously called on fellow ministers to support her view.
She told the Telegraph in March: "Trying to expand Heathrow is like trying to build an eight bedroom mansion on the site of a terraced house. It is a hub airport that is just simply in the wrong place."
Greening also called a third Heathrow runway the "most expensive, noisiest, most polluting and damaging" option put forward by the Davies Commission (a crumb of comfort then that she hasn't been named transport secretary).
Greening was transport secretary for a year between 2011 and 2012, before becoming international development secretary.
12.29pm
We will have a new transport secretary, as the incumbent, Patrick McLoughlin, has been named Conservative Party Chairman. McLoughlin - a strong advocate of HS2 - was well-liked by the industry and helped bring in infrastructure reforms such as the independent National Infrastructure Commission. Watch this space for who takes on this crucial job…
12.23pm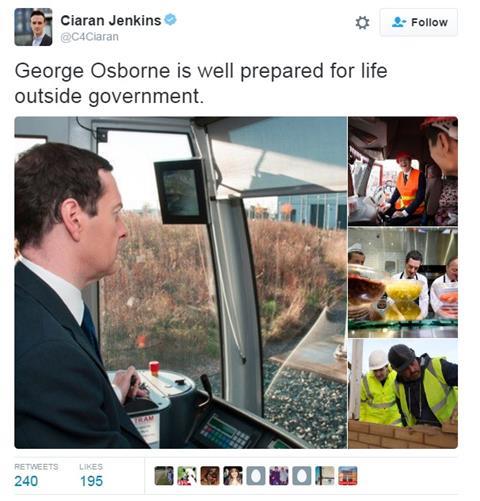 12.18pm
So the education department is set to be "beefed up", taking on responsibility for higher education, skills and apprenticeships – previously part of BIS – as part of an "end-to-end view of skills and education".
This means it's likely the much talked about apprenticeship levy will fall under a new department's remit, and is set to add to the government's delay in providing guidance on how the levy will work.
Guidance was due to be published today on provisional funding bands, setting the maximum amount of funding available for each apprenticeship, and the provisional level of government support available towards the cost of apprenticeship training for non-levy paying employers.
Any announcement is likely to be pushed back until a new skills minister is appointed – Nick Boles resigned yesterday – and briefed on the levy.
12.14pm
Elsewhere, the Bank of England has decided to hold interest rates at 0.5% for now - there had been speculation they could be cut, perhaps to 0%, but they've obviously decided not to hit the panic button just yet.
12.06pm
Apologies for the hiatus, some technical issues/gremlins at Building Towers.
Two new appointments then, Justice Greening is education secretary and minister for women and equalities, while Liz Truss becomes justice secretary. Greening's department is getting beefed up - education is gaining higher education and skills, including apprenticeships policy, from BIS. She'll also be responsible for the DfE's major capital programmes, including the work of the Education Funding Agency. Meanwhile, Truss will take over the £1.3bn 'super prisons' programme discussed earlier.
11.15am
The BBC and Sky are reporting Jeremy Hunt has also been sacked as health secretary. Update: The BBC says he's not been sacked, he'll be getting a different job…
11.10am
We've been following the government's £1.3bn 'super prisons' programme closely in recent months. This was Gove's flagship policy at the justice department. What might be the upshot of his ousting on this programme?
Michael Gove's sacking as justice secretary is unlikely to adversely affect the 'super' prisons programme. It is understood that the funding is ring-fenced. Chancellor George Osborne allocated £1.3bn to the reform and modernisation of the prison estate in last autumn's Spending Review and confirmed that nine new 'super' prisons would be built, five of which are to open by the end of the current Parliament. The new prisons will replace several aging Victorian-built ones, including the notorious Women's Prison, Holloway, which is due to shut its doors this summer. HMP Kennet in Merseyside is also to close by July 2017.
11.07am
But before the appointments, the sackings - Theresa May has demonstrated her ruthless streak by dispatching four key ministers. Those departures in full: Michael Gove from justice, Oliver Letwin from the Cabinet Office, Nicky Morgan from education and John Whittingdale from culture, media and sport.
10.55am
Welcome to Building's live blog covering appointments to Theresa May's new cabinet - several roles relevant to construction will be appointed, including the transport, energy, sustainability, housing, planning, architecture, education and health briefs. Building's news team will be providing analysis on the key appointments throughout the day. What bearing will the reshuffle have on key programmes like HS2 and airport expansion, and policy areas like schools and sustainability? Press 'F5' to keep up-to-date…