Work on south-east London job expected to start later this year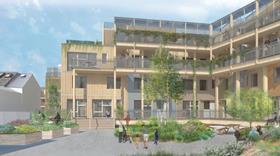 A 33-home affordable housing project in south-east London has been given the green light.
The scheme, which is being brought forward by community organisation Rural Urban Synthesis Society, will cost £8.6m and will be built on a one acre site in the Ladywell area of Lewisham.
Designed by Architype, construction is expected to begin either later this year or in early 2019, with the homes due to be delivered in 2020.
Fourteen of the properties will be available on a shared equity basis; 12 will be shared ownership; six rooms across two shared homes will be for affordable rent, and five of the homes will be for social rent, with the occupiers to be nominated by Lewisham council.
The cost of the homes will be much lower than equivalent properties as the site is on a 250 year lease from Lewisham Council.
The land will be held in a Community Land Trust, so the homes will be valued based mainly on the value of the building.
Last week, another group of Lewisham residents submitted plans for new affordable homes.
Lewisham Citizens has submitted plans for 11 permanently affordable half-price homes to the council, as part of an estate infill development.