Harry Rich stands down after six years in the post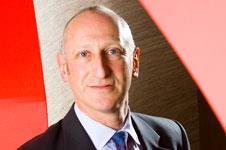 The chief executive of the RIBA, Harry Rich, is to step down from the organisation next month after six years, the body announced today.
In a statement the RIBA said Rich's would be replaced by the current interim director of finance & operations, Alan Vallance, who would take over chief executive responsibilities from 1 February. A RIBA spokesperson said Vallance would take on the job on an interim basis for a year, and that Rich would be around and available "for some time" to ensure a smooth transition.
Rich said: "I have had the privilege of being Chief Executive of this wonderful and unique organisation for six years. During that time RIBA staff and members together have delivered so much and have innovated and changed what we do and how we do it to make us fit for the future. This feels like a good moment to hand over executive leadership as we are about to embark on our next five-year strategy."
Rich does not have another job to go to, and his departure follows a number of other senior staff, including including RIBA director Richard Brindley and chief operating officer Andy Munro, leaving the body last year. A spokesperson said: "Harry will take the time to plan the next stage of his career once he has concluded his responsibilities at the RIBA."
The body didn't say anything more to explain why Rich had decided to leave the body.
Jane Duncan, RIBA president, said: "Harry has worked with dedication and passion to steer the RIBA successfully through a difficult recession. After six years of significant change and innovation he has created a lasting legacy. I know we will all miss him, but the Board has accepted his resignation and I wish him all the very best for his future endeavours."
Rich has attracted controversy in his time leading RIBA, which has seen significant organisational change at the architects' institution. In 2011 there were unconfirmed reports that then RIBA president Ruth Reed attempted to oust him from the role. He has also been associated with RIBA's high profile campaigns, such as the HomeWise campaign, during which he branded thousands of homes built by developers as "shameful shoeboxes."
In December a group of the UK's leading housing architects collaborated to denounce the RIBA's HomeWise campaign, saying the body should have worked with housebuilders on improving new home design rather than launching a "a reckless attack on the house building industry" which they said could end up "alienating an important market for architects' services."
In reaction to the news, architect and RIBA councillor Ben Derbyshire said Rich's tenure coincided with "a period of discontinuity" in the programmes of successive RIBA Presidents that had created problems for the Institute, and said the RIBA had taken on "grandiose and expensive projects which will further distract from the essential task of rebuilding the profession's fortunes." He said: "I wrote to my fellow Council members last year to suggest that it was time for members to re-take the Institute, drive policy through a more effective Council and become the voice of the profession which had become increasingly articulated by the executive. I don't think Harry was particularly comfortable with this message."