Acquisition of Manchester-based project manager helps fuel further Ridge & Partners expansion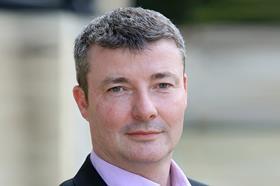 Ridge & Partners has acquired one of the North-west's leading project managers, 29-strong CRE8 Management, for an undisclosed sum.
Ridge said the addition of Manchester-based CRE8 would strengthen its presence in the region and add to its breadth of services, as well as boost its overall staff numbers to 450.
CRE8 is a multidisciplinary consultancy providing project, programme and strategic advice throughout the UK. The practice has clients in a range of sectors including infrastructure, nuclear, transport, regeneration, hotel, residential, retail, leisure, commercial and sports.
Adrian O'Hickey (pictured), senior partner at Ridge, said: "CRE8 is a great fit for Ridge. Their unique selling point is the management and delivery of complex schemes that require the highest level of control and leadership.
"We're delighted to be bringing on board this hand-picked team of high calibre professionals."
CRE8 has worked on a number of high-profile projects, including Manchester's Metrolink and the 2002 Commonwealth Games, and regeneration programme Sheffield One.
The acquisition follows strong growth at Ridge throughout 2014 and 2015, which has seen the company open its first overseas office in Shanghai, China, and O'Hickey take over the role of senior partner from Phil Jones who retired in the summer.
O'Hickey told Building in June that the firm is on course to increase revenue 14% this financial year to £40m.
The opening of Ridge's office in China coincided with construction commencing on a £250m, 300m motor racing track, situated just outside Shanghai, which it is working on.
The firm has also recently been appointed by the Mary Rose Trust as the employer's agent to oversee the modification of the temporary structure that encases the 500-year-old warship in Portsmouth Historic Dockyard to allow visitors unrestricted views following years of conservation work.
Last year the firm bought 55-strong consultant engineer Upton McGougan and six-strong Midlands-based engineer Brazier Holt.