Consultant has also been named Britain's top medium-sized employer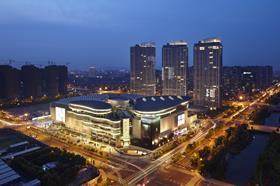 Rider Levett Bucknall (RLB) has been appointed quantity surveyor on the second phase of a £300m mixed-use scheme in Hangzhou, China.
The six million sq ft retail-led scheme also includes homes, a five-star hotel and office space.
Construction began in July 2009 and is expected to complete in December 2013.
Separately RLB has been named Britain's top medium-sized employer for the fifth consecutive year in the Corporate Research Foundation and Guardian's Top Employer awards.
The award is judged on five categories - pay and benefits, training and development, career development, working conditions and company culture.
Chief executive Lance Taylor said: "We are challenging but empathetic. Everyone works hard for the business and our customers but we understand the different constraints that individuals face.
"I am particularly proud of our achievements in enabling staff to balance home and work commitments and offering an environment where it is acceptable to admit that you have a life outside the office!"
"Being benchmarked against other companies in the UK and awarded external certification at this level is something that we are extremely proud of achieving.
"This is a great accolade, not only to our HR team, but of course to all Rider Levett Bucknall staff. They are our differentiator in the marketplace."