Firm's former partners, both 89, to hear more this week on whether £1.25m compensation claim will go to court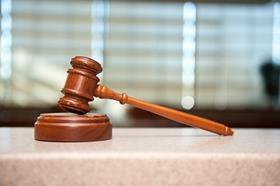 Two elderly former partners of architect RMJM facing a £1.25m asbestos poisoning compensation claim are to find out this week whether their case will go to court.
As Building revealed back in March, Sir Andrew Derbyshire and Vernon Lee, both 89, have been named as defendants in a claim by the family of the late John Angus Miller, who died of mesothelioma at the age of 70 in 2009.
The claim was originally filed against Scottish housebuilder Bett Homes - which employed Miller as a carpenter and joiner between 1962 and 1967 - and RMJM Scotland Ltd, whose predecessor firm RMJM Partnership employed Miller as a clerk of works on the construction of Dundee's Ninewells Hospital from 1967 to 1973.
After RMJM Scotland Ltd went into receivership last October, the claim was amended to target Derbyshire and Lee.
However, contrary to reports in the spring, the party bringing the old partners into the case is not the claimant but Bett Homes, whose actions have now been criticised by the Miller family's solicitor, David Bell of law firm Irwin Mitchell's Glasgow office.
He said: "The action was raised against RMJM the limited company – the party attempting to bring in the [original] partners is Bett Homes.
"From our perspective, there was nothing to suggest this matter was not the liability and responsibility of the limited company [RMJM]. It would be very unusual for former partners to remain liable.
"We could accept the assertion being made by Bett Homes…but we are not admitting what they say – we don't think there is any basis for it and we have seen nothing to show that it is not the responsibility of the limited company [RMJM]."
Asked about the personal view of the Miller family, Bell added: "They simply want this brought to conclusion and are absolutely not out for vengeance against the elderly partners."
Speaking for the first time about the experience, Sir Andrew called it a "great shock".
He said: "I've always tried as an architect to be honest, look after my client's interests and behave as well as I possibly could. To be suddenly confronted with this accusation…coupled with ageing has been very hard to bear and very hard for the family."
Derbyshire and Lee's defences are being co-ordinated by their sons, Ben Derbyshire, who runs HTA Design, and Marcus Lee, a director at Glenn Howells Architects and it is understood that Bett Homes has now told them it will decide by the end of this week whether or not to drop its claim against their fathers.
Commercial director at RMJM Declan Thompson called the case "unfortunate" and said he had tried to assist Ben Derbyshire and Marcus Lee in their search to find written proof that the old partners are no longer liable, a search which has so far been unsuccessful.
A Bett Homes spokesperson said: "Due to the sensitivity and ongoing nature of this case we are unable to make any comment."