Transport secretary announces £173m package of improvements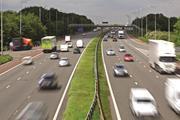 The government is investing more than £170m into road upgrades across England which it claims will help create thousands of jobs and homes.
The funding will go towards building a new £50m bypass for Melton Mowbray, with the 7km section of road to the east of the town expected to help support 3,000 new jobs and 2,250 homes by 2026, according to ministers.
And £41m will go towards cutting congestion on the A164 with six miles road between the Lincoln Way and Castle Hill roundabouts will be converted into a dual carriageway, while £83m will pay for the North Devon Link Road to be widened.
Opening a new £400m section of dual carriageway on the A1 near Darlington, Transport Secretary Chris Grayling said: "We are investing record amounts in improving our roads, giving motorists quicker and safer journeys to go to work, see family and friends, or go shopping.
"Highways England is making good progress in delivering new road schemes right across the country, providing improved connections and new opportunities for businesses."