Madelin will lead development of the firm's 46 acre Canada Water site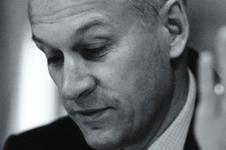 Property developer British Land has appointed Roger Madelin to lead the development of its 46 acre Canada Water site.
He will join the firm at the start of February 2016 and will sit on its executive committee.
Madelin (pictured) joins from Argent, where he has been since 1987 and was chief executive and joint chief executive between 1997 and 2012.
He was directly responsible for leading a number of Argent's developments and from 2000 led the Argent team bringing forward the 67 acre King's Cross development.
Commenting on his appointment, Madelin said: "The combination of the physical opportunity at Canada Water, working with British Land and with the thoughtful and ambitious London Borough of Southwark was an opportunity too exciting to turn down.
"I have had an amazing 29 years at Argent and thank all my colleagues for the trust and support they have given me.
"The completion of the last phases of King's Cross are in talented and safe hands. For new projects Argent and its new partner Related has an exciting future and I wish them all well."
Madelin will continue to be involved at King's Cross in a consultancy role, working one day a fortnight on the buildings developed for the Aga Khan Development Network.