Residents at a luxury apartment complex on the South Bank have issued a writ against the Tate Modern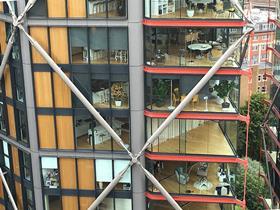 Luxury flat owners at the Rogers Stirk Harbour + Partners-designed Neo Bankside complex on the South Bank in London have taken their argument with the Tate Modern to the High Court.
Five claimants are suing the modern art gallery over a viewing platform at the top of its recent extension which at one side gives visitors to the gallery views into the apartments.
The residents have said that videos and photos have been taken and uploaded to social media sites and have accused the Tate Modern of turning them into "a public exhibit for the benefit of those using the viewing platform", according to a writ filed in the High Court.
The claimants have said that this "visual scrutiny" is a breach of their human rights and want the Tate to put up a screen to and pay legal costs, according to the Daily Mail.
One review of the Tate Modern on travel website Tripadvisor labelled the viewing gallery in Switch House "a voyeur's dream".
The escalation of the dispute between the residents of Neo Bankside - where flats can cost up to £19m - and the art gallery comes after outgoing Tate director Nicholas Serota said last September that residents affected by the viewing gallery who wanted to protect their privacy should put up net curtains.
Southwark Liberal Democrat councillor, Adele Morris, who had helped set up a meeting between the Tate, the building's architects Herzog & de Meuron, Southwark council and the developer Native Land, to try to come up with a solution, called Serota's comments an insult.
A spokesperson for the Tate said: "The design of the building has always included a high level terrace for the benefit of the public, but we cannot comment further given the conditions of the legal process."
Previously Native Land has said: "While development of Neo Bankside had already begun when plans for the new gallery were submitted to the authorities, potential buyers at Neo Bankside had access to marketing material which showed the location of the planned viewing gallery. A model showing the planned Tate extension in context to Neo Bankside was also available.
"We, the Tate and Southwark council are liaising with the affected residents and neighbours to consider the concerns raised."