Administrator of steel specialist says sale of the remaining operational parts of the business is unlikely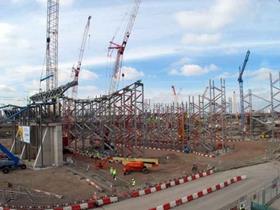 The administrator of Rowecord has said he is "not optimistic" about finding a buyer for the remaining operational parts of the steel specialist, which went into administration on Monday.
Alistair Wardell, senior partner at Grant Thornton, who is leading the administration of the £68m turnover Welsh specialist, told Building there was a prospect of salvaging parts of the construction and building business as a "going concern".
However he said that the circumstances of the administration meant he was "not overly optimistic about finding a buyer".
Wardell declined to say exactly which part of the business he was still looking to sell.
Grant Thornton has already laid off 424 employees at the firm, leaving 83 on the books to finish off select jobs where possible.
Wardell said: "Where possible we will meet our obligations, we will negotiate with customers on a case by case basis, some we will finish off, some we won't. Clearly it is a much reduced business."
A spokesman for Tata Steel denied that a dispute over delays on its £185m Blast Furnace project in Port Talbot was responsible for putting 46 year-old Rowecord into administration. The project was delivered three months behind schedule.
He said: "We settled our account with Rowecord in February to the satisfaction of both parties, and the company is still engaged with ongoing work for Tata."
Rowecord built the roof of the Zaha Hadid-designed Olympic Aquatic Centre (pictured) as well as the stadiums for Cardiff City Football club and the Llanelli Rugby Club.
It is currently working on major projects at the Dover Docks and the British Museum.
In calling in administrators, Rowecord managing director Andrew Hoppe said the company had "exhausted every option to sustain the business for the future".
Rowecord turned over £68.2m in its last full financial year to 30 June 2012 and made a pre-tax profit of £3.2m.
These results were an improvement on the previous year, when it posted revenue of £40m and a pre-tax loss of £4.7m.
Welsh business minister Edwina Hart said this week that the company turned down a government offer of assistance "because of their worsening financial and competitive position".
In a statement to Welsh assembly on Tuesday (30 April),Hart said the company was trying to protect other parts of the group.
"Clearly, we were offering a short to medium term remedy to the company's management. In the longer term a full recovery lies with a significant improvement in market conditions," she said.
The firm was founded in 1967 and also worked on the Lawn Tennis Academy in Roehampton and scores of major bridges.