Dutch giant points finger at losses in Germany and the Middle East
Cost overruns on projects in Germany and the Middle East combined to hit Bam's results in 2019, with group pre-tax profit more than halving, while overall turnover remained flat.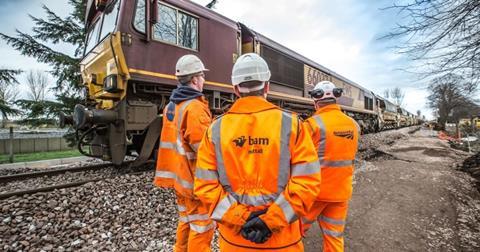 The Dutch construction giant reported pre-tax profit of €74m (£62m), down from €153m (£128m) in 2018. Turnover was level at €7.2bn (£6bn).
Bam, which owns Bam Construct and Bam Nuttall in the UK, posted losses of €94m (£79m) on jobs in Germany and the Middle East, according to chief executive Rob van Wingerden.
Van Wingerden, who will step down as Bam's chief executive in April after six years in the job, said the group's performance had recovered in the second half after a poor start to the year, and the final full year margin of 1%, half that of 2018, had been line with expectations.
He noted strong contributions from the firm's UK operation in both construction and civil engineering.
The firm's UK construction operation saw revenues slightly down in 2019 at €1.1bn (£900m), while the division's profit rose 12% to €35.7m (£30m). Looking ahead the firm's work on large framework contracts would bolster the business, van Wingerden said.
Bam's construction arm in Scotland this week started work on a new £19m health centre in Clydebank.
The three-storey building is expected to be completed in the autumn of 2021.
On the UK civils side van Wingerden said Bam Nuttall delivered a good result including a stronger performance in the second half year. Profit dipped 15% to €23m (£19m) on turnover up 4% at €876m (£734m).
The outlook for civils' activity in the UK may still be affected by Brexit, van Wingerden said, but he was encouraged by the UK government's support for HS2.