Combined practice will employ 180 people with turnover of circa £15m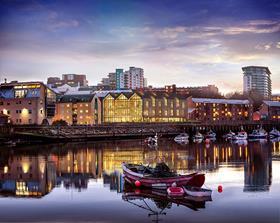 Ryder Architecture has completed the acquisition of Devereux Architects for an undisclosed sum.
The combined practice, which will take effect from 1 October, will have teams in Newcastle, London, Glasgow, Liverpool, Hong Kong and Vancouver, with 180 employees and turnover of circa £15m. Devereaux's staff will relocate to Ryder's offices in Fitzrovia, London.
Devereux Architects, which was acquired by international project delivery specialists PM Group in 2007, has been collaborating with Ryder over the past 12 months.
The firms said the deal will create "great sysnergies" between the two firms, adding Devereaux has a strong track record in the healthcare and higher education sectors, primarily in the south, which is complementary to its own portfolio in these sectors.
Mark Thompson, managing partner at Ryder, said: "This will strengthen our capability in key sectors and bring greater capacity to our London team which is enjoying a period of growth."
Nic Allen, director at Devereux, added: "We have been working with Ryder for a while and have a number of mutual clients nationally so integrating the practices was a natural evolution of the relationship."