Business interview: Manufacturer's chairman talks glass, global reach and the importance of innovation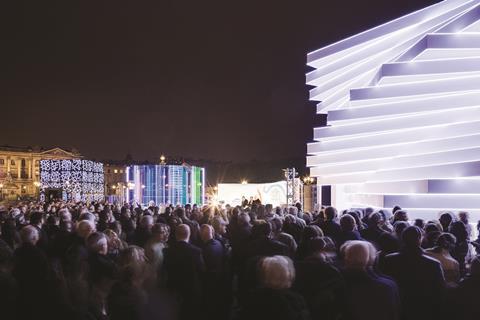 Global manufacturer Saint-Gobain is one of the world's oldest companies, having been established in 1665 and counting the delivery of the hall of mirrors in the Palace of Versailles as its first major commission.
After three-and-a-half centuries of diversification, Saint-Gobain has come a long way from its origins as the Manufacture des Glaces, established by French royal patent in the reign of king Louis XIV. The company still retains its original business – the manufacture of flat glass – but this now accounts for just 12% of its sales.
The company has extended its reach across construction products manufacture, innovative materials and distribution, and recorded a profit of €2.8bn (£2bn) in 2014 on a turnover of €41bn (£29.5bn). The business, which employs 180,000 staff across 66 countries, still sees innovation as core to its strategy and is about to open its eighth major research and development centre, located near São Paulo, Brazil.
To coincide with the company's 350th anniversary this month, chairman and chief executive Pierre-André de Chalendar spoke to Building in Paris about the areas he believes will be key to the company's future growth, and the potential - and challenges – for further innovation in construction.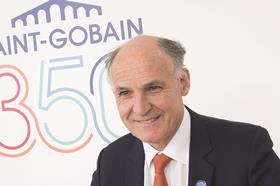 What do you see as the biggest area of growth for Saint-Gobain?
PAC The main theme of Saint-Gobain's work today is bringing comfort to buildings. Aspects like thermal comfort, acoustic comfort – interest in acoustic comfort is growing fast – air quality, and visual comfort. I always start by saying the house of the future should be beautiful. One thing that will increase demand for comfort is digital measuring. It means the end user is going to pay attention to what he gets.
How will the end user's greater awareness of a building's performance impact on the construction supply chain?
Very quickly, we will see the end user becoming an integral part of the value chain in construction, which is a big challenge. In many cases, the end user will be more knowledgeable than the small builder. This will change the way our industry works.
Do you believe that the UK construction industry is innovating fast enough to meet customer demand?
In the past 40 years, there has not been a lot of innovation in UK construction in terms of improving productivity but I think BIM will change this. In terms of product innovation there has been more - at Saint-Gobain one in four of our products didn't exist five years ago. But I think, again, digital measurement will accelerate that, because the end user will ask.
How far do you believe new technologies will change construction processes?
The digital revolution within Saint-Gobain is huge. It's as important as when we started the first automation in our plants. Training is a major theme for us, as there is a gap of people with both digital and management skills.
In your view, how does the UK's record on addressing sustainability compare with other countries?
For the last few years I found that the UK was one of the countries that was ahead on sustainability, although the Nordic countries tend to lead on thermal comfort.
But I understand that recently some measures taken by the UK government don't go in the right direction [on sustainability], and I hope that there will be others introduced, because this is a mistake.
Is leadership on sustainability at a government level necessary for the construction industry to help meet the challenges of climate change?
Industry should also [address sustainability] by itself, and this is happening. In the UK, I believe you will get some contractors and housebuilders breaking away, and then it will start to motor. It is important that governments understand that industry is necessary if they want to reduce the impact of climate change. Companies have been considered for a long time the problem, but they are the solution.
Can a company both retain its heritage and be known as an innovator?
The reason a company can last is when they try to innovate.
We were proud to be part of a group with much younger, innovative companies like Google in the recent Reuters ranking [Thomson Reuters Top 100 Global Innovators in 2014]. And you can innovate in the building industry.
If we are going to be there for the next 350 years - and we want to be there - we will have to change, as we have changed a lot.