Esther McVey also sacked as housing minister
Chancellor Sajid Javid has resigned from the government in a dramatic move during this morning's cabinet reshuffle.
Javid had been expected to keep his job despite tensions between No 10 and No 11 Downing Street that apparently intensified after briefings around HS2 getting the go-ahead leaked out of the Treasury two weeks ago.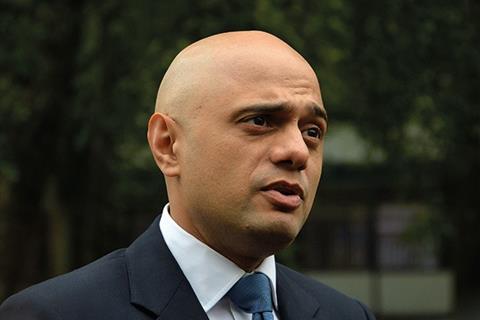 It is being reported that the prime minister had demanded that Javid axe all his special advisers – and that Javid resigned rather than do that.
Rishi Sunak, the chancellor's second-in-command, has replaced him and will be responsible for the delivery of the budget on 11 March.
Esther McVey has also been sacked as housing minister, less than seven months into the job. Her tenure is the second-shortest for a housing minister in nearly a quarter of a century – Dominic Raab lasted six months on the dot in 2018. It has been confirmed that Robert Jenrick is staying on as housing secretary.
In what has become something of a revolving door department, McVey was appointed to the housing brief only last July as part of Johnson's first re-shuffle when he became prime minister.
McVey was the 17th housing minister since Tony Blair became prime minister in 1997 and the 10th in the past 10 years.
While she threw her weight behind modular housing and modern methods of construction some felt that her knowledge of the sector did not match that of her predecessor, Kit Malthouse.
She was ridiculed over comments she made at last year's Conservative party conference when she talked about building a new generation of homes using "3D architects" and appeared to suggest that using computers was an innovation.
I'm very sorry to be relieved of my duties as Housing Minister

I wish my successor the very best & every success

I'm very grateful to the Prime Minister for having given me the opportunity to serve in his government & he will continue to have my support from the back benches

— Esther McVey (@EstherMcVey1) February 13, 2020
McVey also courted controversy this month when she suggested that it was not for the government to tell residents that they were living in blocks clad in dangerous materials such as ACM.
Other casualties of Johnson's latest reshuffle include Theresa Villiers, fired as environment secretary, and Andrea Leadsom, sacked as business secretary.
In a statement Leadsom said she was particularly proud of her work on working towards net-zero targets and on making the UK "the best place in the world to work and to grow a business".
The former minister was also appointed in July following Johnson's victory in the Conservative leadership contest. She was a junior energy minister under David Cameron, subsequently being made environment secretary and then leader of the house under Theresa May. She is now heading for the backbenches.
Transport minister Nursat Ghani, who has been the minister responsible for HS2, had been tipped to take up that role on a full-time basis but has now been pushed from the government.
On Twitter she said: "Huge privilege to have been transport minister and we've achieved so much in two years. Thanks to the great team in the dept and now I get to spend more time with family and constituents."
George Freeman, her colleague in the department, has also been removed as a minister. He had the responsibility for connectivity in the East-West arc.
Chris Skidmore, who was a minister jointly at the education and business departments, has also been sacked. Skidmore was in charge of universities as well as research and innovation.
Attorney General Geoffrey Cox has also been sacked and will be returning to the backbenches.
In a letter posted on Twitter, he said that the "great political mission of our time" had been to implement the result of the 2016 EU referendum, adding: "I am delighted that our legal exit from EU membership was successfully accomplished on January 31 and that, as a country, we can now turn our attention to seizing the many opportunities which lie ahead."
Last week, Cox was asked by the Grenfell Tower Inquiry chair Martin Moore-Bick to back requests for immunity from prosecution by firms involved in the design and choice of flammable cladding in the tower's refurbishment that has been blamed for the 2017 fire.