Housebuilder reports soaring order book on the back of Help to Buy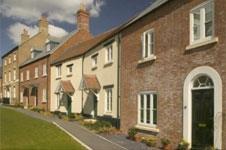 Sales at housebuilder Persimmon are currently running 45% ahead of the same period last year, with the firm having sold 3,000 homes under the government's Help to Buy scheme.
In an interim management statement to the city covering the period from July 1, the housebuilder said it had sold all the homes it had planned for the calendar year 2013, and had made £650m of forward sales for 2014, 41% ahead of its position last year.
It has opened 65 of the 85 sites identified for the second half of 2013, allowing it to increase towards 400 outlets by the end of the year.
In the statement the firm said: "The introduction of the government sponsored Help to Buy equity loan scheme in April 2013, which is only available to buyers of newly built homes, has proved particularly attractive."
However, the firm added that despite the government bringing forward the start date of the second phase of Help to Buy to September, response from consumers to that initiative had been muted by the fact very high interest rates were being charged on mortgages.
Despite reports of rising supply chain costs caused by the sudden industry expansion in output, Persimmon said it was keeping a "tight control on build costs" and had increased its underlying operating margin to 15.1%, up from 12.1% in 2012.
The firm also said it had increased build rates and in particular had increased the use of its Space 4 timber frame factory by 25%, helping to keep build costs down.