RIAS Andrew Doolan prize is worth £25,000 to the winner - the richest in British architecture
A shortlist of 13 buildings has been announced by the Royal Incorporation of Architects in Scotland for this year's £25,000 Andrew Doolan Best Building in Scotland Award.
The prize, the richest award in British architecture and jointly funded by the Scottish Government and the family of the late architect and award founder Andrew Doolan, received a record 35 submissions this year.
Those shortlisted include Reiach & Hall, Malcolm Fraser Architects, Page & Park, Austin- Smith Lord and Gareth Hoskins Architects.
Sholto Humphries, President of the Royal Incorporation of Architects in Scotland, said: "Their geography covers the whole of Scotland and they range from a multi-million pound council office complex to the joyful transformation of a Glasgow motorway junction. I am looking forward to the challenge of selecting a winner from this diverse and brilliant bunch."
An announcement of the jury's decision will be made by Scotish culture secretary Fiona Hyslop and Andrew Doolan's mother, Margaret Doolan, at the Scottish Parliament on November 17th.
The shortlist, in alphabetical order, is as follows with a short comment from the judges:
10 Pearce Street, Govan
Austin-Smith:Lord LLP
"This project breaks the mould for housing association developments. Part of the regeneration of central Govan, it sets a new standard."
The Brochs of Coigach
SBA Architects Ltd
"In significant contrast to the trend for kit housing, these homes blend into their setting, built into the landscape with great care."
Centre for the Scottish War Blinded
Page\Park Architects
"The legible plan is crucially important to the building's users but the spaces within are far removed from the institutional norm."
Dundee House
Reiach and Hall Architects
"The adaptation of this large existing building is imaginative and engaging, giving the Council a very friendly public face."
Glentress Peel Visitor Centre
Gaia Architects
"The three buildings on this site create new public, staff, research and educational facilities which are wholly appropriate to their special rural setting."
Grödians
Richard Gibson Architects
"A careful yet engaging new addition to the Lerwick landscape, understated in form but highly appealing – these new homes brighten the landscape."
Hillcrest Housing Association HQ
Nicoll Russell Studios
"An impressive achievement for the budget, this new building is human in scale and an inspiring workplace."
Hillhead Primary School
jmarchitects Ltd
"Combining a school with publicly accessible facilities, this building is very contemporary and very welcoming."
The Houl
Simon Winstanley Architects
"Demanding some of Scotland's finest views, this unique sustainable home utilises traditional materials with great dexterity. "
Linlithgow Burgh Halls
Malcolm Fraser Architects
"Crucially important to the town, this re-use of a key historic building brings new life and vitality – an inspiring dialogue with the building's history."
The National Museum of Scotland
Gareth Hoskins Architects Ltd
"The "big moves" here are deftly delivered. This adaptation is sensitive and intelligent, enhancing both the building and the objects displayed within it."
Phoenix Flowers
7N Architects
"This highly unusual work of architecture enlivens a previously unpleasant public space and infuses it with joy."
University of Edinburgh Business School
LDN Architects
"The adaptation and extension of this important existing building is delivered with great care. However the interventions have their own distinct personality."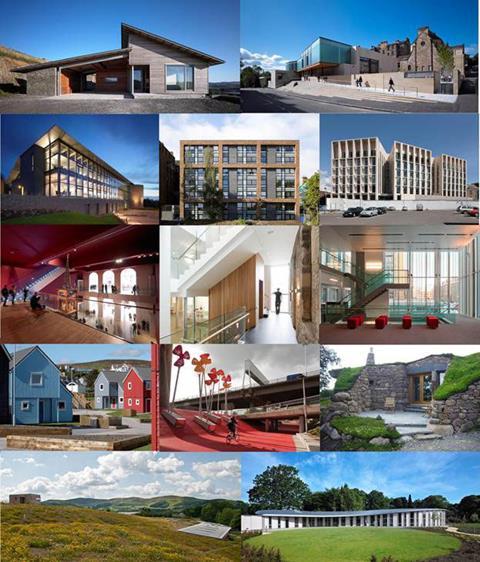 Shortlist montage image credits:
Top row left to right:
The Houl - Simon Winstanley Architects © Andrew Lee
Hillhead Primary School - jm architects Ltd © Andrew Lee
Second row left to right:
Hillcrest Housing Association HQ - Nicoll Russell Studios © Andrew Lee
10 Pearce Street, Govan - Austin-Smith:Lord LLP © Keith Hunter
Dundee House - Reiach and Hall Architects © Dave Morris
Third row left to right:
The National Museum of Scotland - Gareth Hoskins Architects Ltd © Andrew Lee
Linlithgow Burgh Halls - Malcolm Fraser Architects © Dave Morris
University of Edinburgh Business School - LDN Architects © Paul Zanre
Fourth row left to right:
Grödians - Richard Gibson Architects © Richard Gibson Architects
Phoenix Flowers - 7N Architects © Dave Morris
The Brochs of Coigach - SBA Architects Ltd © Reiner Luyken
Bottom row left to right:
Glentress Peel Visitor Centre - Gaia Architects © Michael Wolchover
Centre for the Scottish War Blinded - Page\Park Architects © Andrew Lee