Three-year framework will cover eight local authorities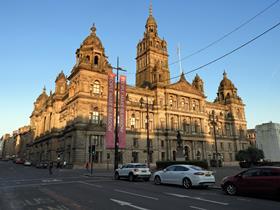 Glasgow city council is on the hunt for contractors to deliver construction, repair and maintenance of public realm schemes in the Glasgow City region.
The council is procuring the £150m framework on behalf of the Glasgow City Deal, an agreement between eight local authorities that will fund major infrastructure projects, improve public transport and connectivity, as well as boosting business and jobs growth.
In a contract notice posted on the Official Journal yesterday, the council revealed the three-year framework would be divided into three lots.
The first lot covers works of up to £5,999,999 and has minimum turnover of £7.5m over the framework's duration.
Lot number two covers jobs worth between £6m and £11,999,999 and will have a turnover of at least £20m over the course of the framework.
The third lot will cover the most expensive jobs, with contractors on this lot set to undertake works worth between £12m and £20m. It will have a minimum turnover of £30m.
There is an option for the council to renew the framework for an additional 12 months.
Contractors are able to bid for all three lots, with the council expecting to invite a maximum of eight firms to tender for each lot.
Bidders have until 2 July to express there interest in the framework, with shortlisted firms expected to be invited to tender on 31 August.
The eight local authorities involved in the Glasgow City Deal are Glasgow city council, East Renfrewshire council, Renfrewshire council, South Lanarkshire council, Inverclyde council, North Lanarkshire council, East Dunbartonshire council and West Dunbartonshire council.