The UK's largest specialist steelwork contractor posts half-year results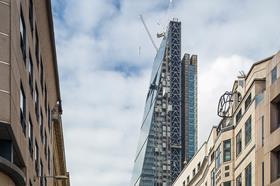 The UK's largest specialist steelwork contractor Severfield-Rowen has reported reduced losses and 84 job losses in its half year results to 30 September.
Severfield-Rowen posted a £2.7m pre-tax loss from the period – an improvement on a £23.6m loss the previous year.
The firm – which appointed a new chief executive, Ian Lawson, this month – incurred restructuring costs of £2.6m after making 84 job cuts in its largest business Severfield-Watson Structures.
The firm also reduced Severfield-Watson's manufacturing capacity by 10% to adjust to reduced market demand for structural steel.
Severfield-Rowen also suffered from poor performance in its three-year-old Indian structural steel joint venture, incurring £1.3m losses over the period, compared to a £0.4m profit the previous year.
The firm said it returned to underlying pre-tax profit of £1.4m, once exceptional items including the restructuring costs and further finance costs were taken into account.
Chairman John Dodds said: "The first six months of the financial year have been marked by significant operational change and progress.
"While certain challenges still remain the group has achieved an important turning point; there is, however, still further work to be done under Ian's leadership.
"The completion of the restructuring at Severfield-Watson Structures and on-going operational improvements, combined with some signs of the UK market improving into 2014, gives me confidence for the future and the Group's ability to build on its strong market position."
Lawson, a former Kier board director, became Severfield-Rowen chief executive on 1 November.
The appointment saw Lawson and Dodds – who was formerly Kier chief executive – working together again after Dodds retired from Kier in 2009.
Lawson stepped down from Kier earlier this summer following the firm's merger with May Gurney.
The troubled contractor said the last full financial year to 31 March 2013 had been the "most challenging in the group's history", after it was hit by £20.1m of cost overruns on a number of problem contracts, including a £10m write-off on the 122 Leadenhall tower in London, known as the Cheesegrater.
The period saw a number of profit warnings and the departure of the firm's chief executive Tom Haughey, with a rights issue in February raising £44.8m.