The UK's largest specialist steelwork contractor says trading is in line with expectations as it eyes recovery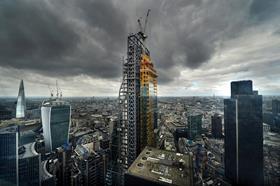 The UK's largest specialist steelwork contractor Severfield-Rowen has said it is on track to meet its trading expectations and is eying recovery after a torrid previous financial year.
In an update to the City this morning, the firm said its trading was in line with expectations and the business was now more stable than last full financial year to 31 March 2013 year, which the firm described as the "most challenging in the group's history".
Last year the firm was hit by £20.1m of cost overruns on a number of problem contracts, including a £10m write-off on the 122 Leadenhall tower in London, known as the Cheesegrater (pictured), with the firm reporting a lost of £29m.
The period saw a number of profit warnings and the departure of the firm's chief executive Tom Haughey, with a rights issue in February raising £44.8m.
But the firm today said it had a "stable" order book of £172m, which was a "level with which management is comfortable".
The firm said: "The UK business is showing much greater stability following the completion of the reorganisation undertaken in the last calendar year.
"The operational improvement programme continues to make good progress, supporting management expectations that margins will continue to recover over the next two years even without any upturn in the UK market."
"The UK market continues to show signs of improvement. This is particularly evident in the pipeline of potential orders the business is seeing, though it is likely to be well into the next financial year before this starts to have any notable impact on the size or mix of the order book."
However, the firm said trading in India "continues to be difficult" and would remain so "at least until" after May 2014 election in the country.
"In the meantime, the focus remains on strengthening the commercial focus of the business and managing costs tightly," the firm said.
"The order book level of £32 million remains stable, but as highlighted previously, needs to be significantly higher to maintain break-even production levels in the factory."
The firm added: "The UK business continues to strengthen and perform in line with management's expectations.
"While India remains challenging, senior management is focused on improving the situation both commercially and operationally.
"Overall, the Group is ideally positioned for recovery in the UK construction market, with its improving operations, good market share and strong balance sheet."