Chief executive Ian Lawson targets profit growth after steelwork firm posts solid half-year results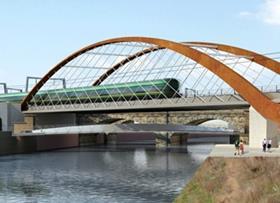 Steelwork giant Severfield expects further growth in profitability after posting a return to profit in a solid set of half-year results today.
Chief executive Ian Lawson told Building he expected the firm's profitability to "continue to improve" over the coming months, after the firm posted pre-tax profit of £1.7m for the six months to 30 September 2014, up from a £2.7m pre-tax loss for the same period last year.
The return to profit was underpinned by growth in the firm's UK underlying operating margin to 3.7%, up from 2.5%, while the firm's share of losses from its Indian joint venture reduced to £0.3m, down from £1.3m.
Lawson said: "This is a positive set of results and we expect sustainable profit and margin growth."
Severfield's revenue for the period contracted 17% to £97.4m, down from £117.1m.
The firm noted that once £1.3m of exceptional amortisation costs were stripped out of the results, it posted an underlying pre-tax profit of £3m.
The return to profit comes after a tough period of trading for the firm. Severfield posted a pre-tax loss of £4.1m in its full-year results to 31 March 2014, down from a £28.9m pre-tax loss over the 15 months to 31 March 2013.
Severfield's £28.9m pre-tax loss over 2012-13 included £20.1m of cost overruns on problem contracts, including a £10m write-off on 122 Leadenhall tower in London, known as the Cheesegrater, leading to a series of profit warnings and the exit of Lawson's predecessor Tom Haughey.
Lawson confirmed Severfield's UK business is now taking a "more disciplined approach to tendering" to avoid similar problems on contracts.
He said: "It's about actually managing the risk properly. We've got processes in place so that we fully appraise the risk we're taking on."
Lawson said the commercial, transport, industrial and data centre sectors were all "looking positive" for the firm.
Major contracts won during the half-year period included London commercial office developments at Principal Place and Angel Court, and the Ordsall Chord link bridge project between Manchester Victoria and Piccadilly stations (pictured).
The firm's UK order book stood at £185m on 1 November 2014, up from £168m on 1 May 2014, while the India order book reduced slightly to £38m, down from £41m.
Lawson said the firm is "assisting" with an investigation into the breakage of two steel bolts on the Cheesegrater tower earlier this month, which is being carried out by developer British Land, contractor Laing O'Rourke and engineer Arup.
He said there was "no suggestion at this time" that Severfield would face any liability for the breakages.