Hotel will open on 6 May - a full year late due to delays on £40m fit-out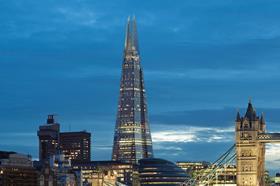 Luxury hotel group Shangri-La has finally set an opening date for its under-development hotel at London's Shard skyscraper.
The hotel will open on 6 May 2014 – a full year later than originally planned.
Shangri-La has repeatedly delayed the launch of the hotel due to delays on the £40m fit-out.
The client originally intended to open the hotel in the second quarter of last year, but this was pushed back several times.
Building revealed in September that the launch of the hotel was unlikely to happen in 2013 and a source told us at the time it was unlikely to open until "between February and April [2014]".
In September, fit-out delays caused Shangri-La to replace the contractor on the fit-out job, Sisk, with rival Chorus Group.
At the time a Sisk spokesperson said the firm was "looking forward to bringing [the] project to its completion but it was delayed for reasons out of our control".
The Shangri-La at The Shard is the tallest hotel in Western Europe and the first high-rise hotel in London, occupying levels 34 to 52 of the 72-storey Shard.
Shangri-La president and chief executive Greg Dogan said: "The Shard is a landmark synonymous with London and we hope to encourage visitors to our hotel, and the surrounding area.
"We are truly excited to be an integral part of the ongoing development of the South Bank community and the borough of Southwark."
The hotel includes dining venues, a gym with infinity pool and meeting and events facilities.