EXCLUSIVE: Mace working to extended deadline for practical completion of £500m landmark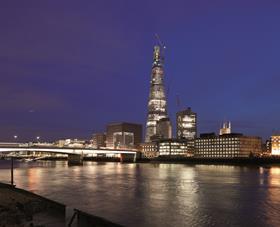 Contractor Mace has missed the original practical completion deadline for the £500m Shard skyscraper and is working to meet an extended deadline.
The Shard was originally due to achieve practical completion by the end of May this year, well ahead of the London 2012 Olympics which begins on 27 July.
But founder and chief executive of developer Sellar, Irvine Sellar, told Building this week that practical completion of the tower could come "many weeks after" the Games, which end on 12 August.
Mace is working to "physically complete" the external structure of the 310m-high tower before the Games, according to Sellar.
Sellar said: "Physical completion will be there before the Olympics […] The cladding will be on, the hoists will be down and the external structure will virtually be complete.
"There'll be a little work on the ground to complete. From a visual point of view, at a distance, at a medium range and almost at a very close range what you'll see there is what you'll get."
Sources close to the project said the practical completion deadline had been extended through an "amicable agreement" between Sellar and Mace.
A source said the extensions resulted from "changes in the design as it progressed", with another saying the scope of work had increased. Mace was officially appointed in February 2009 on a fixed-price basis.
The Shard is the centerpiece of the £2bn London Quarter development by Sellar and Middle Eastern developer Qatari Diar.
The scheme includes 17-floor office building The Place - which topped out this week - a new station concourse and bus station at London Bridge and a public plaza. Speaking at ThePlace topping out ceremony, Stephen Pycroft, chief executive of Mace, said he would continue to have a "hands on" role at the firm when deputy chief executive Mark Reynolds steps up to replace him next January.
Pycroft - who will remain on as chairman – said the Shard had lifted the firm into the "premier league" of contractors in the UK.
A spokesperson for Mace said: "Mace's milestone agreed with Sellar for the Shard has been to achieve physical completion of the building by 31 May and this has been met. We are on programme to meet all the further milestones agreed with the client in order to achieve practical completion."