British Land plans internal refurbishment of 25-year-old retail mall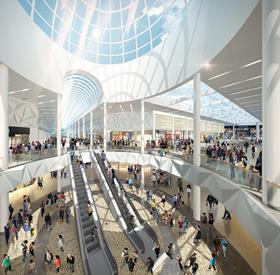 Meadowhall Shopping Centre in Sheffield is to undergo a £50m refurbishment, British Land has announced.
The work will start in autumn 2015 and is scheduled to be completed by the end of 2017.
British Land said: "The works will create distinct 'districts' within the centre, each with a different finish including wood and punctured metal. The works will also enable a number of retailers to install double height shop fronts.
"The refurbishment includes new way finding, mall seating and lighting as well as the installation of dramatic lighting artwork."
The work will largely be completed out of hours so retail and leisure operators can trade throughout.
Meadowhall Shopping Centre opened 25 years ago on the site of a former steelworks.
Claire Barber, head of shopping centre asset management for British Land, said: "Across the retail portfolio, we are investing in our assets to ensure they reflect the way people shop today. The refurbishment of Meadowhall will reposition the centre to appeal to premium and lifestyle retailers as well as a broader range of customers."
Source