Construction on massive Shell Centre revamp likely to be delayed after minister "calls in" planning application for a public inquiry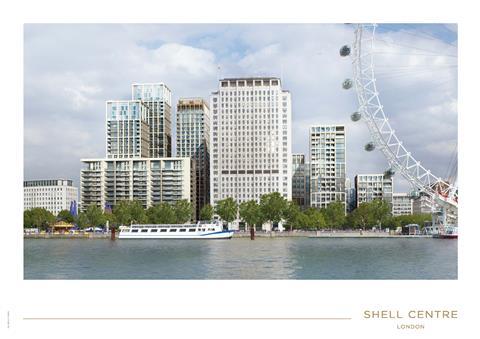 Construction on the Shell Centre revamp, one of London's largest redevelopment schemes, is unlikely to begin this year as planned after the government "called in" the plans for a public inquiry.
The move by planning minister Nick Boles last week to "call in" the scheme, being developed by Braeburn Estates, a joint venture between Canary Wharf Group and Qatari Diar, came despite the plans being approved by Lambeth council and the mayor of London.
It is understood that Boris Johnson was furious at the minister's move and has sought assurances that any public inquiry will be expedited.
Canary Wharf Contractors will build out the scheme and the developers had hoped work would start before the end of the year. That now seems unlikely.
A spokesman for the mayor of London said: ""The mayor is confident the government will see the merit of this scheme that is at the heart of the regeneration of the Waterloo area and is hugely beneficial to the London economy."
The decision to call in the application follows the decision not call in the controversial Elizabeth House scheme, also near Waterloo, which is opposed by Westminster council and English Heritage.
A Department for Communities and Local Government spokesperson said: "Ministers are very selective about calling in planning applications and only take this step if planning issues of more than local importance are involved."
The 1.45m square ft mixed-use Shell Centre scheme on the South Bank has been masterplanned by Squire & Partners, with six architects – including Squires, KPF and Stanton Williams –designing elements of project, including eight new towers.
The scheme will retain the famous 27-storey Shell Centre Tower and the building's main occupier Shell will take a further 245,000 sq ft of office space in the wider scheme.
The development is planned for completion in 2019.