Sam Stacey joins innovation group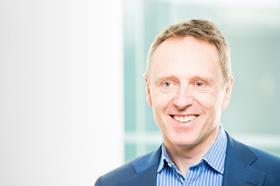 Skanska's innovation chief Sam Stacey has been nabbed by a research group to oversee government investment into new technologies and techniques in construction.
Stacey was previously director of innovation, industrialisation and business improvement at Skanska and his CV also includes stints at Wates and engineer Buro Happold.
He joins UK Research and Innovation (UKRI) as director of the Industrial Strategy Challenge Fund's Transforming Construction challenge.
The fund is a £1.7bn government investment in research and development to help businesses grow and compete globally.
Under it, £170m from the fund is matched by £250m from the industry in order to foster new techniques for building manufacture in the UK.
Stacey said: "The UK has some of the best engineering, architectural and construction firms in the world, but the sector as a whole lags [behind] others such as manufacturing."
"I firmly believe that the Challenge Fund award and the Industrial Strategy sector deal represent an opportunity to take the UK construction industry from one of the world's best, to an absolute world-beater."
Stacey will be tasked with overseeing collaboration between business and researchers in order to improve innovation.