Crown Estate ploughs on with its £500m revamp of the St James area of London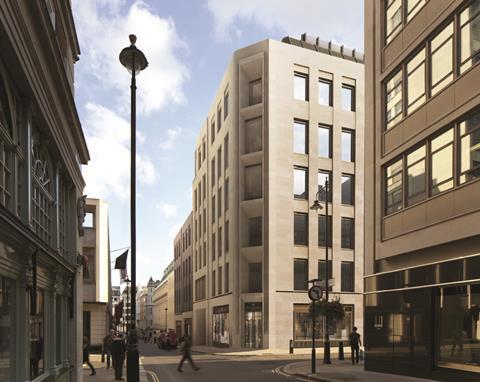 Skanska has been appointed by the Crown Estate to build a £100m scheme in the West End of London.
The John McAslan and Partners-designed scheme involves redeveloping Duke's Court near the Ritz Hotel into an office building with retail and restaurant space on the ground and basement levels.
It is part of a wider £500m investment programme by the Crown Estate in the St James area of the capital.
Skanska's £32m contract is to deliver 46,000 sq ft of space, of which 35,000 sq ft is office space and 11,000 sq ft is retail and restaurant space.
The project will also return the upper floors of the building back to residential use, creating six new apartments. However, these works are not part of Skanska's contract.
It is due to complete in spring 2019.
James Cooksey, director of central London at The Crown Estate said: "We're committed to re-establishing St James's as world-class business and lifestyle destination.
"Such an investment reflects our belief in the fundamentals of London's West End, notwithstanding the near term market outlook, and its continued performance over the long term through creating fantastic buildings that stand the test of time."
Steve Holbrook, Skanska's recently-appointed managing director, said: "We have worked closely with members of The Crown Estate's delivery team to develop a cost-effective solution and look forward to working with The Crown Estate. This is our third contract win in the West End this year."
The Crown Estate owns half of the buildings in the St James's area of London and in the autumn completed the £400m redevelopment of St James Market in partnership with Oxford Properties, creating 260,000 sq ft of office space, seven restaurants and five stores.