Skanska announces joint venture with green energy firm Ecotricity to develop onshore wind farms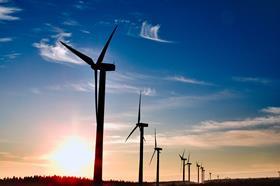 Skanska has announced plans to build £500m worth of wind farms across the UK in a joint venture with green energy firm Ecotricity.
Skanska said the new joint venture - called Skylark - would aim to put 350MW of onshore wind farm into planning system in the first five years, which would represent a investment of £500m.
The firm said three development sites have already been identified for Skylark's first round of investment, representing around 100MW of generating capacity, with completion expected in 2018.
Ecotricity founder Dale Vince said: "Ecotricity will use its expertise in green energy development to design wind parks and gain planning consents, while Skanska will use their expertise in construction to build them.
"It's a simple partnership that will help to bring energy independence to Britain using green energy made in Britain.
Skanska Infrastructure Development EVP Steve Cooper said: "At Skanska, sustainability is at the heart of everything we do. Wherever we work, we strive to push forward the green agenda in construction and infrastructure development. Our green agenda, together with our wish to build what society needs, help to define us as a company."