Group to undergo global restructure to boost profitability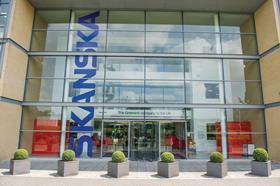 Skanska has announced plans to cut 3,000 jobs globally in a move to improve falling profitability. It employs 41,000 people in total and 5,900 in the UK.
The firm will take a £90m hit on its construction units to cover this restructuring and impairments. It expects a further charge of £54m this year as the restructuring takes place and savings of £90m per year from the 3,000 lay-offs.
Announcing preliminary group financial results for last year, in which it said group operating profit for 2017 will fall from around £738m in 2016 to £477m, it said: "In order to improve profitability Skanska will reduce the size of unprofitable business units and increase focus on cost control and risk management.
"Skanska will also make a number of organizational and leadership changes. Due to the unsatisfactory performance of several construction units Skanska will take the following actions: restructure the construction operations in Poland, leave the power sector in the USA, focus on the core business in the UK and continue to adapt to tougher market conditions in the Czech Republic."
Commenting on the UK business, a spokesperson said: "We are continuing to work on improving performance across the UK operations and focusing on our core business is fully aligned with that strategy.
"As with all businesses, we maintain our headcount in line with our expectations for the business. Our order backlog remains robust, supported by a strong balance sheet."
In a document filed with Companies House in October, Skanska revealed pre-tax profit in its UK business in 2016 had fallen 44% to £23.6m from £42.1m in 2015. Revenue reduced 14.3% from £1.4bn to £1.6bn.
The firm said Brexit was continuing to have a "negative impact" on business in the UK, with the decision to leave the European Union in March 2019 affecting all building sectors, except residential.
Earlier in the year, the firm had reported writedowns totalling £33m in relation to its UK operations, due to estimated production rates not being hit and project delays. It added the writedowns were also due to "multiple changes driven by clients".
In July, Skanska was replaced on the second phase of the £9bn revamp of Battersea Power Station in west London and in 2016 was brought back to carry out remedial work at the University Hospital Coventry scheme, which it built more than a decade ago because of fears it may have been constructed without adequate fire protection.