Firm also saw its operating margin fall slightly on the back of a "challenging" environment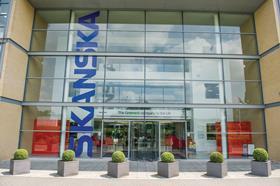 Skanska's UK business has reported a 44% drop in pre-tax profit for last year.
The firm, in a document filed at Companies House, reported a pre-tax profit of £23.6m for 2016, down from £42.1m in 2015. Revenue increased 14.3% from £1.4bn to £1.6bn.
The contractor, which was replaced on phase two of the redevelopment of Battersea Power Station during the summer, said its operating margin had fallen 0.1% to 1.4% due to the "challenging business environment" and that it had added another layer of governance to its bidding processes, as well as a system to "better" monitor the performance of large projects.
Skanska's Swedish parent company in July announced writedowns on its UK and US activities totalling SEK780m (£81.5m), blaming delays to projects which resulted in cost overruns.
The firm added that its new chief executive, Gregor Craig, who replaced Mike Putnam in May, was "actively addressing the issues around these writedowns".
Skanska added that the markets in which it operates in the UK had been impacted by Brexit and that office and warehouse sectors were "sluggish".
In particular, the firm said the commercial sector in London had been slow but what activity there had been was being supported by Chinese and Asian investment.