Workload activity down with Northern Ireland the only home nation to experience an increase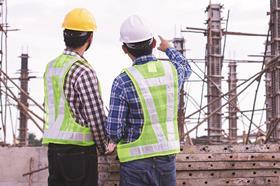 Growth among construction SMEs slowed for the majority of the UK in the third quarter when compared to Q2.
This is according to the Federation of Master Builders' (FMB's) latest State of Trade Survey, which generated 348 responses from construction SMEs.
The three months ending 30 September was the 18th consecutive quarter of positive growth, meaning that the UK's construction SME sector have been growing for four-and-a-half years since Q2 2013.
But workload growth still slowed, with 37% reporting increasing activity compared to 39% in Q2. Northern Ireland was the only home nation to experience activity increases at a faster rate as its net balance improved by eight percentage points to +12.
Just over four in ten (41%) predicted rising workloads in the coming three months, down from 48% in the previous quarter, while 82% of builders believe that material prices will rise in the next six months.
It also revealed that 61% of construction SMEs are struggling to hire carpenters and joiners, 59% struggling to hire bricklayers and 49% struggling to hire site managers. More than half said they expect salaries and wages to increase in the next six months.
Brian Berry, chief executive of the FMB, said: "Material price hikes and skills shortages are putting the brakes on growth among the UK's small building firms. Now that the general election is well and truly behind us, it was our hope that consumer confidence would spring back and spur growth among small building firms in the third quarter of this year.
"However, our latest research shows that rising costs are dampening the performance of construction SMEs. The spike in salaries is a direct result of the ever-worsening skills shortage in our sector.
"It's a simple consequence of supply and demand – construction workers know their worth and given the scarcity of skilled tradespeople, these individuals are understandably demanding higher wages from their employers. Indeed, nearly two thirds of construction SMEs are struggling to hire carpenters and joiners which has now surpassed bricklayers as the trade in shortest supply."