Deal reached between FMB and Unite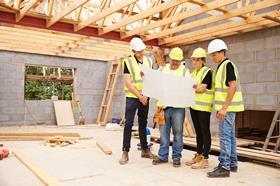 Construction workers will see their pay increase by 2.75% this summer after a deal brokered between the Federation of Master Builders and Unite.
The Building and Allied Trades Joint Industrial Council agreed the one-year deal, which sees above-inflation pay rises come into effect on 24 June.
The deal is technically non-binding, with the 8,000 SME builders who are part of the FMB only legally constrained by the minimum wage.
But it reflects a wage for construction workers which is recognised by both employers and workers representatives as reasonable – and is likely to be widely adopted given a shortage of workers.
The adult general operatives' rate will be increased by 26p an hour to £9.78, with apprentices and trainees also set to see their income swell by 2.75%.
Brian Berry, chief executive of the FMB, said the agreement "strikes the right balance" as it rewards workers but recognises "the uncertainty many construction firms are facing".