Deal reached between FMB and union Unite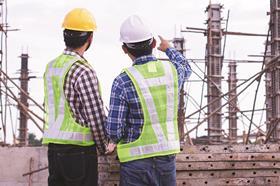 SME builders and union Unite have agreed a new pay deal set to come into effect this June.
The Building and Allied Trades Joint Industrial Council has agreed to a one year deal, which will see wages increase by 3.1%.
The deal follows negotiations between the Federation of Master Builders (FMB), on behalf of SME construction employers, and Unite.
Brian Berry, chief executive of the FMB, said the deal was designed to take into account higher inflation last year and ensure employees continued to see the benefits of ongoing growth in construction through rises in real wages.
He said: "The severity of the skills crisis means that it is imperative that we attract more people into the industry. It's also more important than ever that we retain existing workers.
"At the same time, the economic outlook for employers remains uncertain, especially given key unknowns like the impact of Brexit. As such, I believe the agreement announced today strikes a fair balance which is right for the industry."
Jerry Swain, the national officer for construction at Unite the union, said: "It is only right that workers see the benefits of growth in the construction sector with this significant pay rise which demonstrates the importance of a strong collective union voice for construction workers."
The rate for adult general operatives will increase to £9.52 an hour, while the NVQ3 advanced craft rate will rise to £12.45.
Apprentices and trainees are also set to reap the rewards of the 3.1% increase.
Pay deal for SME construction employees
• Building and Allied Trades Joint Industrial Council has agreed a one year deal involving a 3.1% pay rise over the next year
• All apprentices and trainees will also benefit from a 3.1% pay increase
• The adult general operatives' rate increases by 29p an hour to £9.52
• The NVQ3 advanced craft rate increases by 37p an hour to £12.45
• The changes will come into effect as of Monday 25th June 2018