NHS trust behind Midland Met says cost will be reimbursed
Implementing social distancing measures to help prevent the spread of coronavirus on its scheme to complete the Midland Metropolitan Hospital has cost Balfour Beatty £500,000.
The firm was drafted in to replace original contractor Carillion which went bust in January 2018 leaving the Sandwell hospital half-built.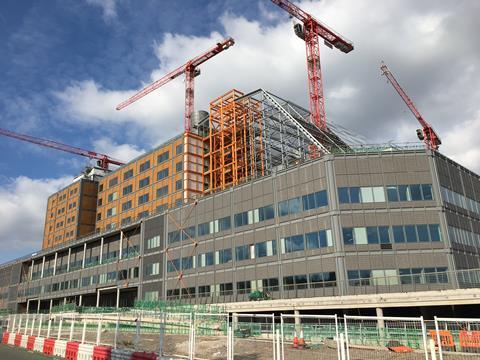 Board papers released ahead for the latest meeting of the Sandwell and West Birmingham Hospitals NHS Trust today (6 August) said: "DMc [Dinah McLannahan, chief finance officer] confirmed that there had been cost 'knock-on' effects from covid-19 because of Balfour Beatty having to work under lockdown restrictions.
"DMc reported that the estates team had informed her that Balfour Beatty had incurred costs of around £500k because of social distancing/provision of welfare facilities etc."
> Second former Carillion hospital bracing itself for covid-19 delays
> Government probe into Carillion hospital jobs suspended because of pandemic
She said the costs would be accounted for separately from operational work and would be reimbursed.
The report also said there were less than 90 weeks remaining until Balfour Beatty handed it over – meaning it is expected to be completed by spring 2022.