WElink Energy and China National Building Materials announce £1.1bn deal to build 8,000 affordable zero carbon homes in sites across UK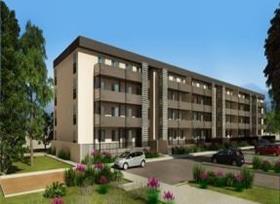 A UK solar developer has announced a £1.1bn deal with a Chinese building materials giant to build 8,000 affordable zero carbon homes in the UK.
WElink Energy, a solar firm which has offices across the world including in the UK and Ireland, says it will work with China National Building Materials (CNBM) – a Fortune Global 500 company – to develop and build modular energy efficient homes in sites across the UK.
The two have committed £800m as part of a strategic framework to deliver the 8,000 homes, with the first phase of development to deliver 4,000 homes, and at least another 4,000 homes to follow. It says construction of the first 4,000 homes will begin this year and be completed by 2018, however it is not known where the development will take place.
A start date for the second phase has not yet been announced.
The homes will be built using a low-cost housing solution called the Barcelona Housing System (BHS), a pre-engineered construction technique designed by Spanish architects Cesar Martinell & Associates.
WElink and CNMB are already working on delivering 30,000 zero carbon affordable homes in Spain, Croatia and Chile.
Speaking to Building, WElink Energy chairman Ajmal Rahman said the firm is in the "process of acquiring sites" and said further announcements on locations will be made shortly.
The zero carbon project is the solar firm's first foray into housebuilding, and Rahman said: "We will partner with people along the way to help us build the homes, but not traditional housebuilders. This is a different solution."
Rahman added that the component parts of the homes – which will be apartment blocks up to four storeys high and will contain two or three bedroom flats – will be built in a factory close to the development, and then assembled on-site.
He added: "They're modular homes, built to factory standards, to meet the more ambitious targets of affordable housing. There's also no cement and no water usage, so there's zero waste."
British Solar Renewables have been awarded a contract to supply and install roof-top solar panels and energy storage components on the homes.
In a statement announcing the deal, CEO of WElink, Barry O'Neill, said that given the "engineering, financial and strategic support of our Chinese partners", the firm will be able to "expand rapidly to fulfil the appetite for the development of affordable housing in the UK."