Ayesa shrugs off Brexit fears as it eyes engineering role on 'ambitious projects'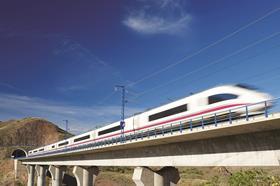 One of Spain's largest construction consultants, Ayesa, is targeting UK expansion including HS2 work in spite of Brexit.
In an exclusive interview with Building, Tom Cullen, the €232m-turnover (£201m) firm's UK country manager, said the London-based company expects to grow from nine to 50 UK staff by the end of the year, as it seeks to capitalise on UK engineering skills shortages.
The firm has also hired Douglas McCormick, former Sweett chief executive and Atkins rail boss, as a consultant to help steer its expansion drive.
Seville-based Ayesa has 3,700 staff globally and offices in Poland, across Latin America, north Africa, India and south-east Asia.
Ayesa has worked on major high-speed rail projects in Spain, Morocco and India, which Cullen believes will give it an edge when bidding for HS2 work.
He said: "We have international high-speed rail experience, which people here don't have."
Ayesa is already supporting contracting joint venture LFM – comprising Laing O'Rourke, FCC and J Murphy & Sons – on bids for billions of pounds' worth of HS2 civils contracts.
The consultant launched in the UK in London in 2014 and has won work on the Merseylink bridge and with clients including aeroplane manufacturer Airbus and gas infrastructure client CLH.
Cullen said Ayesa was largely undeterred by Brexit: "We know there's going to be a place for us in the UK - although it might mean more admin [to obtain visas].
"The UK has many ambitious projects coming up and they're going to need engineers."
He added that the UK remained an attractive place to do business: "In many ways it's a stamp of approval. If you can work here [in the UK], you can work anywhere.
"It's a great place to do business from and you have access to all the financial institutions."
Ayesa joins a host of major Spanish firms targeting HS2 work, including fellow engineer Sener and contracting giants Dragados, Ferrovial, FCC and Acciona.
It is also the latest EU-based consultant to set its sights on UK expansion in spite of Brexit, after German €285m-turnover (£262m) Drees & Sommer revealed to Building in November it was launching offices in London and Birmingham.
Cullen said Ayesa would stand apart from competitors as a "part-engineering, part-technology company", offering services including software expertise, and extensive experience using BIM.