The chief executive of Speedy Hire has stepped down from the business following the discovery of a £5m hole in the accounts of the firm's international division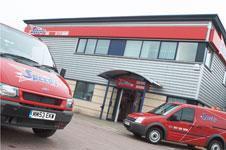 In a statement the firm said "information has very recently emerged indicating the mis-statement of a number of accounting balances within the international division over recent accounting periods."
This had led to a hole of £4.5-5m in the international business, which mainly works in the Middle East and accounts for around 5% of the group's revenue.
The firm said: "The information currently available suggests that certain control processes within the International Division have been repeatedly and deliberately circumvented.
"The issues are believed to affect a limited number of smaller contracts."
The firm said group chief executive Steve Corcoran had resigned and "will be leaving the company at a date to be finalised".
"He will remain with the business for a period to allow for continuity with customers, suppliers and employees and pending the appointment of a new group chief executive," the firm said.
The firm said the finance director of the international division has been suspended, with other senior divisional management are the subject of further investigation.
Law firm Addleshaw Goddard will conduct an independent legal investigation and forensic accountants are in the process of being appointed, the firm added.
Speedy Hire said its UK businesses were unaffected by the issues.