National Audit Office asks subbies on government work if they are paid on time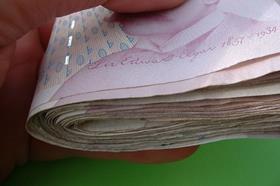 The National Audit Office has launched a probe into the speed at which main contractors and subbies are paid on government contracts, due to report in autumn this year.
The government spending watchdog said the report, which will look at all suppliers, not just construction firms, will monitor government departments' performance against the 2010 pledge to pay all undisputed invoices within five days. This announcement included a pledge for departments to ensure that main contractors pay their suppliers within 30 days of invoice.
The probe will particularly look at whether main contractors are meeting their obligations to pay their supply chain promptly when working for the government.
The NAO said the report "will examine how departments process invoices, calculate their prompt payment performance and ensure that main contractors comply with their obligations on subcontractors."
The watchdog is asking for evidence from subcontractors to inform the probe. It has set up an online survey and which it is calling for subcontractors working on government contracts to fill in.
The probe comes just two months after the Construction Leadership Council launched an industry "Supply Chain Payment Charter", with concerns around late payment still a major priority for subcontractors. Writing in building magazine this week, chief construction adviser Peter Hansford said that the publication of the charter demonstrates the CLC's "willingness to tackle the really tricky issues" and said the body was working with the Institute of Credit Management on "monitoring and compliance" with the charter.
However, so far just six clients and two main contractors, Laing O'Rourke and Skanska, have signed up to the charter, which promises payment within 30 days to subbies on all work by January 2018.