National Audit Office says lack of clarity from government over funding means 2026 opening date already in doubt
The multi-billion-pound project to build a tunnel under Stonehenge and upgrade the A303 already risks being late and not achieving much benefit, according to the National Audit Office.
Highways England is currently working with technical partner Aecom, in partnership with Mace and WSP, to secure planning permission for the Wiltshire scheme, while the tender process for contractors is due start within a fortnight.
The proposed tunnel (pictured) would be 3.3km long, running from Amesbury to Berwick Down, and will open at the end of 2026.
But the NAO said the opening date is already in jeopardy because of government indecision over where its funding should come from.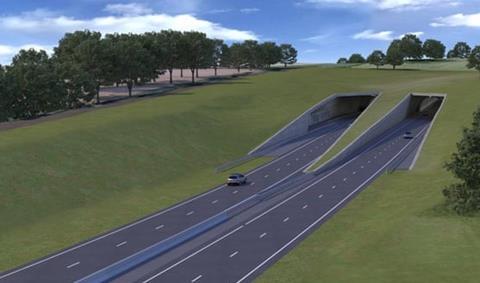 The scheme was initially due to receive cash from the Treasury but the construction start date was postponed by 15 months to December 2021 after Highways England were instead told to use private finance.
The spending watchdog says it is now "not clear how the project will be funded" after chancellor Philip Hammond cancelled all future private finance deals last October – although the Treasury has provided £22m for pre-construction works.
The full cost of the scheme is forecast to be between £1.5bn and £2.4bn, depending on contract prices, with £53m having already been spent.
The NAO also said the value of benefit from the scheme only amounts to 31p for every £1 spent under cost-benefit criteria for roads.
The figure rises to £1.15 for every £1 when including cultural heritage benefits – but Highways England calculated this by asking people how much they would pay to have the road removed from the World Heritage site, a method the NAO describes as "inherently uncertain".
Amyas Morse, head of the NAO, said: "The tunnel at Stonehenge is currently only just value for money by the Department [for Transport]'s own business case.
"It will take a very special effort by the department to protect public value up to completion."
A spokesperson for Highways England said: "Upgrading the A303 at Stonehenge will boost the region's economy and improve its connections with the rest of the country.
"Decisions on the allocation of funding specifically for the scheme are not expected until later this year."