Tottenham Hotspur has appointed Mace as its main construction partner for state-of-the-art new stadium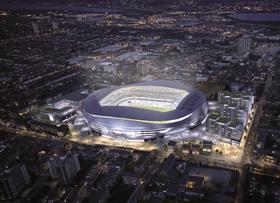 Mace has been confirmed by Tottenham Hotspur as the main construction partner on the club's new state-of-the-art £400m stadium.
The firm will help develop the pre-construction plans and detailed construction programme for the 58,000 seat stadium, as well as work with the club to procure specialist sub-contractors for the works.
Mace chief executive Mark Reynolds said: "We are privileged and thrilled to join the team to take the new stadium to its next stage of development. We look forward to working with the club and its consultants to make sure the project is a success. It is of critical importance as it is the flagship development that will act as a catalyst for the regeneration of this area."
Daniel Levy, chairman of Tottenham Hotspur, said, "This is another step towards the delivery of one of the best stadiums in the world. We are delighted to have Mace on board. They bring a wealth of experience and I know they share our commitment to ensuring that the development will be first class in every aspect. We now await Haringey Council's Planning Committee decision on 8 December 2015."
Mace join architect Populous, engineer Buro Happold and cost consultant EC Harris on the project team.
The stadium plans will be considered by a planning committe on the 8 December.