The proposed tower, if approved, would become the tallest in the City of London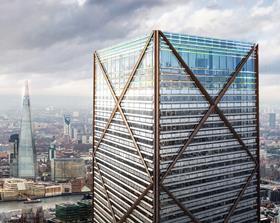 The Singaporean developers of the Square Mile's next skyscraper 1 Undershaft face an even longer wait to find out if the City of London will give it the go-ahead.
The scheme had been expected to be considered today, but a spokesperson for the City of London Corporation said there are still "a number of detailed matters" surrounding the scheme being discussed.
"We expect the planning application for 1 Undershaft to be determined in the coming months," the spokesperson added.
Aroland Holdings submitted a planning application for the Eric Parry-designed 73-storey 'trellis' tower back in December last year.
The firm also released details last month of a deal in the works that could see the Museum of London manage an exhibition area and two classrooms on the 71st and 72nd floors.
However, having not made it on to the agenda for next week's planning committee meeting, the developers will have to at least wait out the summer till the next meeting convenes on 13 September when the tower could next be up for decision.
The proposed tower would topple Lipton Rogers 22 Bishopsgate as the tallest in the City if approved.
It is comprised of 90,000 sq m off office space and nearly 2,000 sq m of retail, while the reception lobby will be elevated allowing the public to walk underneath.
Previously, Eric Parry said: "The response to 1 Undershaft has been overwhelmingly positive. The enthusiastic support for the public viewing gallery and enlarged Public Square has been especially welcome as the tower has been designed to put the public first."