Exclusive: Architect Make to design Arena Central's first office building as market starts to pick up in the regions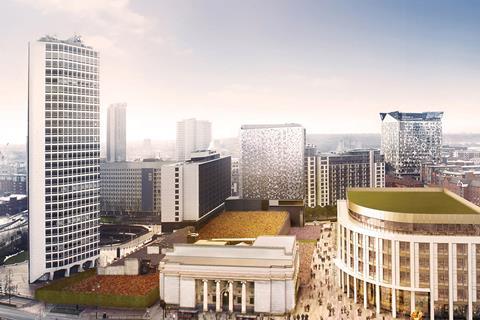 The developer behind a long-stalled £500m Birmingham city centre commercial scheme has revealed that work will finally start on the development this year, with architect Make appointed to design the scheme's first office building.
Developer Arena Central Developments (ACD) told a Built Environment Networking event in Birmingham last week that it would begin demolishing buildings to make way for the first phase of the £500m Arena Central scheme this year.
The announcement is seen as a further sign of the market turnaround in the regions - and in particular the return of speculative office schemes. It came in the same week as major capital investment plans were announced by Peel Ports in Liverpool and Manchester Airports Group (see box, below, for more details).
ACD, a joint venture between Miller Developments and Bridgehouse Capital, said Make Architects is working up detailed designs for the first element of phase one, a speculative seven-storey curved office building named Arena 1, and will submit detailed plans for approval this month.
ACD plans to start construction of the 144,000ft2 Arena 1 next year, with the building scheduled to complete in mid-2016.
The 2.3 million ft2 Arena Central scheme was initially announced in 2004, with a revised masterplan submitted in 2011, which doubled the amount of commercial space across the 9.2 acre site.
Outline planning consent for Arena Central is already in place for up to 2.3 million ft2 of mixed-use development, including 800,000ft2 of Grade A office accommodation, hotels and more than 200,000ft2 of residential units, alongside up to 1.2 million ft2 of retail and leisure units.
Last year demolition work began on part of the site to make way for a 210-bedroom Holiday Inn Express hotel.
The £500m development will go head-to-head with Argent's nearby 1.8 million ft2 £450m Paradise Circus mixed-use scheme, where the construction of its first speculative office buildings is expected to start next year to meet growing demand for Grade A office space in Birmingham.
Jonathan Wallis, development director at Miller Developments, said: "There is an office supply shortage coming up [in Birmingham] and from 2015 onwards we're going to be in trouble in this city. There's a big play for first mover advantage."
Wallis added that developer Dandara, which bought a proposed 50-storey residential scheme at Arena Central in 2004, was close to unveiling scaled down plans for a tower scheme "soon".
New-build office development outside London collapsed from an average of 1.6 million ft2 a year before the financial crisis, to 500,000ft2 a year after it, according to property agent Savills.
But investors and property agents told the annual British Council for Offices (BCO) conference, held in Birmingham last week, that the regional office market is starting to turn around.
Mat Oakley, Savills' director of commercial research, said the regions were benefitting from being "competitively cheap" compared with the booming London market, as well as from "severe under supply of Grade A office space".
Phil Irons, partner at investor Benson Elliot Capital Management, said: "If you're brave enough the real money is in new-build offices [in the regions]."


North-west targeted for redevelopment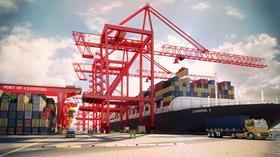 Peel Ports is planning to spend at least £350m on capital projects in the North-west over the next decade, including significant investment in new logistics warehouses, in addition to its development of the Liverpool 2 deep-sea port.
Dennis Henderson, commercial director of Peel Ports, said the client plans to invest in speculative warehouse developments in the North-west to capitalise on the expected boost in trade to the region generated by the £350m Liverpool 2 deep sea port.
Henderson told a Built Environment Networking event in Manchester last week that the client would spend at least another £350m on capital projects in the Liverpool-Manchester region over the next decade, on top of the Liverpool 2 investment, including on a number of logistics warehouses.
He said Liverpool 2 would be a "game changer for logistics in the North-west" and "a significant catalyst for further construction" in the area, particularly logistics parks.
Meanwhile, the Manchester Airports Group (MAG) is working up plans to redevelop terminals one and three at Manchester airport.
The client's group planning director John Twigg told the same Built Environment Networking event that the airport plans to overhaul the two terminals "over the next 10 years or so" and ultimately wants to expand the airport's capacity from 20 million passengers per annum to 40 million.
Twigg said plans for the terminals would be unveiled this September.