Developer and broadcaster launch TVC Developments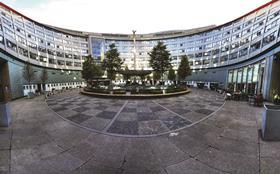 Stanhope and the BBC have launched a company called TVC Developments to carry out the £1bn redevelopment of the iconic doughnut-shaped Television Centre Complex in West London.
TVC Developments' aim is to ensure any redevelopment "respects" the BBC legacy and is financially successful.
Stanhope is backed by finance from Mitsui Fudosan, of Japan, and Alberta Investment Management Corporation, of Canada.
TVC Developments will be made up of Stanhope executives and BBC representatives, according to Building's sister title Property Week. Chris Kane, head of BBC Workplace, will become TVC's developments director. Dominic Coles, the broadcaster's director of operations, will be on the board.
Stanhope chief executive David Camp said: "It is part of the deal that the BBC does get some overage payments and BBC Worldwide will be coming back into the [redeveloped] scheme, so this joint venture creates an ability for us to work together much more inclusively going forward. We also need to determine how we can best use the BBC brand to create expression on the site."