Developer buys iconic 'doughnut' complex for £200m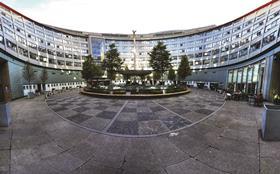 Developer Stanhope has bought the iconic 'doughnut' shaped BBC television centre in west London for £200m.
The BBC said in a statement that it had "exchanged contracts" with Stanhope on Saturday, adding more details would be released when the sale is complete.
The 14-acre site will be empty by 2015 after staff have moved to other sites including the new MediaCity in Salford and the new Broadcasting House in central London.
The "doughnut" was given Grade II listed status by English Heritage three years ago.