Firm currently working on £1bn worth of schemes, with co-founder saying firm "couldn't have asked for a better start"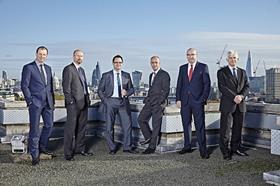 High-profile start-up cost consultant Alinea is on course to turn over £1.5m in its first full financial year, the firm's co-founders have revealed in their first interview since launching in May.
Two of the firm's six co-founders - Iain Parker and Richard Taylor - told Building the firm is already working on six million ft2 of schemes, worth over £1bn in construction value.
Major schemes on the books include £1.5bn mixed-use Silvertown Quays in east London for Chelsfield and a proposed tower scheme on Leadenhall Street in the City of London for Mitsubishi Estate.
Parker said: "We couldn't have asked for a better start. But we're very humble about that, we're not complacent about it."
The co-founders quit jobs heading up various commercial teams at Davis Langdon and EC Harris to found Alinea, which focuses on the commercial, retail, residential and corporate real estate sectors.
Alinea is now 22-strong and will grow to 28 in February, with the firm expecting to have 100 staff within five years.
The co-founders expect the firm return a profit in its first year and to be turning over £2.5m in year two. The six co-founders have 150 years of experience between them, primarily in the London commercial sector, including working on icons such as the Shard and the Leadenhall Building. The other four co-founders are Paul Allen, Mark Lacey, Steve Watts and Paul Zuccherelli.
Read the full interview here