The government has begun to publish its future material requirements for construction projects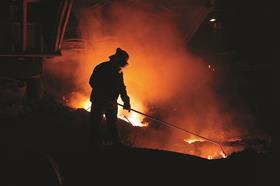 The government has revealed that it will need three million tonnes of steel equivalent to 173 Wembley stadiums for its infrastructure projects by 2020.
The data has been provided as part of the government's plan to publish its estimated future steel requirements annually to make it easier for the country's embattled steel manufactures to plan and bid for government contracts.
In addition the procurement guidance has been extended to include projects below the £10m threshold and those from local and health authorities. The changes also apply to other materials such as ceramics, cement and aluminium.
Business and energy secretary Greg Clark said: "The Government has been absolutely clear that we want to do all we can to support our world-class steel industry. These changes will ensure that UK steel companies can better plan for the long term, giving them an even greater chance of securing government contracts.
"We want UK companies big and small to be bidding for and winning government contracts which is why our upcoming Industrial Strategy is so important. This strategy will ensure we make the right investments in science, research, skills and infrastructure so that British industry wins contracts by producing the best goods and services."
Cabinet Office minister Ben Gummer said: "I don't want contracts going abroad if the best value for money bid is a British bid with all the social and economic benefits that brings.

"By updating our procurement approach on these major infrastructure projects we are creating a level playing field for UK steel."
The latest updates come just over a year after the government made changes to make sure that social, environmental and economic factors were taken into account in central government procurement decisions as it aimed to level the playing field for UK companies bidding on government contracts.