NWS is the latest Green Deal provider to be stung by slow uptake of the government retrofit schemes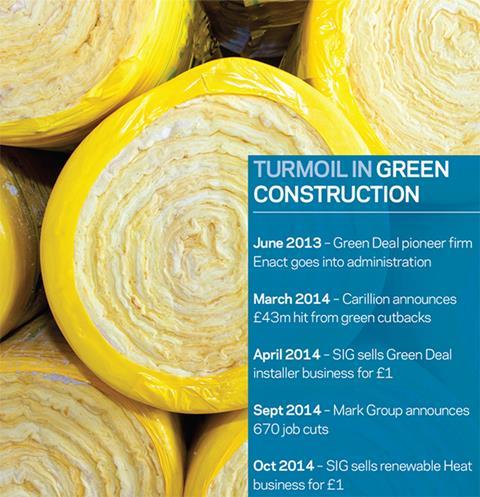 One of the UK's largest Green Deal providers has become the latest in a string of firms to run into financial difficulty because of the slow uptake of the government scheme and cuts to other retrofit programmes.
NWS has asked its creditors to let it enter a company voluntary arrangement to stave off insolvency.
In documents sent to creditors and seen by Building this week, the firm's directors said the company was "unable to pay its debts" of £3.5m because of the failure of a raft of government green policies.
It said cuts to the solar feed-in tariff, the Energy Companies Obligation (ECO) and the Green Deal Home Improvement Fund; delays to the Renewable Heat Incentive; and changes to the Green Deal, were all to blame for its financial problems.
In the statement NWS directors Alix Fellows and Russell Cowan said they had originally set up the firm to work in the solar market, but when this was "decimated" by sudden government cuts to the solar subsidy scheme the firm "examined other options to diversify".
It invested in staff training, fleet and facilities to work in the Green Deal and ECO markets, the directors said, adding: "Once again the company invested in government-backed schemes, which were unexpectedly and immediately changed with serious financial consequences."
"Due to the repeated decisions and changes made by the relevant acting government, affected in some circumstances by the change from a Labour-led government to a confused coalition of Conservatives and Liberal Democrats, NWS now finds itself in a position where it is not possible for its trade creditors to be repaid."
The firm's statement of affairs showed it owed trade creditors £1.4m and the taxman £550,813.
The directors said they expected to pay creditors around 11p in the pound.
NWS is the latest in a series of firms to run into financial difficulties as a result of green policy failings or uncertainty in the market (see box).
Andrew Warren, honorary president of the Association for the Conservation of Energy, said the failings in the scheme were hitting firms in all parts of the industry.
He said: "Certainly it is a far cry from the heady days of 2010, when former energy secretary Chris Huhne was forecasting 100,000 people delivering home energy efficiency."
A spokesperson for the Department of Energy and Climate Change said its energy efficiency schemes were not designed to subsidise the industry.
She added: "There isn't unlimited funding, and companies should develop their business models accordingly."