Chief executive of UK's largest private M&E business warns firms in sector still face tough times ahead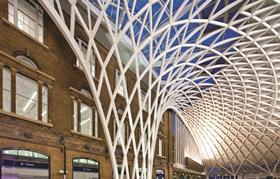 The troubled M&E sector is still "18 months to two years" away from profitability, according to the boss of the UK's largest private M&E firm.
The M&E sector has experienced a torrid few years, with the sector hit by high profile casualties, including Airedale and MJN Colston, while tier one contractors such as Mitie and Balfour Beatty have drawn back from the sector, citing razor thin margins.
Last month, Balfour Beatty issued a £35m profit warning due to problems in its M&E business.
Speaking to Building this week, David Hurcomb, chief executive of NG Bailey, the UK's largest private M&E firm, said that while the quality of contract opportunities was "looking better", because M&E work comes at the end of projects "it will be 18 months to two years before improved profitability starts to be recognised in [M&E firms'] accounts".
Hurcomb was speaking to Building as NG Bailey reported a return to profit in the year to 28 February 2014 - with the firm posting a £6.9m pre-tax profit, compared to a £10.1m loss the previous year.
NG Bailey also posted a 10% fall in revenue to £379.8m, partly reflecting a "managed reduction" in its £208m-turnover building services division and a "rigorously selective bidding policy to avoid 'buying' high-risk, low-margin work".
Hurcomb said the firm's profit was generated by its IT, facilities and rail divisions and not by its traditional M&E building services business.
Hurcomb said: "Our building services division was broadly break even. This reflects the fact the market is still incredibly tight.
"If we can survive this [recession] it will be a great achievement for everyone at NG Bailey - and we've just about survived."
This week fellow M&E specialist T Clarke reported a sharp drop in half-year pre-tax profit after it was forced to pay £600,000 in legal costs. But T Clarke chief executive Mark Lawrence said that the firm was now seeing "early signs" of an improvement in the market "where sustainable growth can be achieved".
"Although there still remain pockets of the market where unsustainable bidding practices by others continue," he added.
"We are already seeing far less fixed-price bids being demanded by clients and more opportunities to negotiate and lock in our resources."
However, the M&E sector could be hit by industrial action, after union Unite this week refused to rule out strikes over a pay dispute.
Hurcomb said he thought the pay proposals were "fair" and employers' representatives will "get together with the union in the coming weeks".
"I hope they can come to a sensible deal," he added.
The firm's rail, IT and facilities divisions all grew to £60m, £56m and £45m turnover respectively.
The firm's order book was up 32% on the previous year to £550m and its headcount dipped only marginally to 2,626, down from 2,721.
Pre-tax profit was boosted by investment gains from financial markets of £5.7m. The firm's operating profit - which strips out finance costs - was £1.2m, compared to a £13.3m loss the previous year.
Exceptional costs, which are incorporated into both pre-tax and operating profit, declined to £0.9m, which were down to restructuring costs, down from £11.2m the previous year, which were incurred from £5m of restructuring and £6m of problem contracts.
Hurcomb said the firm was "massively committed" to direct employment and would assess whether to transfer agency workers directly on to its books on a "job by job basis", after HMRC changed its rules to crackdown on bogus self-employment.
Earlier this year NG Bailey transferred scores of electricians on to its books working on its upgrades of Tottenham Court Road underground station and Three Bridges station.
Hurcomb said the firm was investing in expanding its BIM and off-site manufacturing capabilities.